Life and times at Point Mugu Naval Air Station, a.k.a. The Pacific Missile Test Center
Oxnard, a small coastal town one hour north of Los Angeles is typically free of smog and cool in the summer and mild in the winter.

My Paradise Lost (Click on picture for more)

NAS Point Mugu was my place of work for 16 years. It has some of the prettiest beaches in the area.

(Click on picture for more)
A few days ago (March 2018), cleaning my office, I ran across a few old prints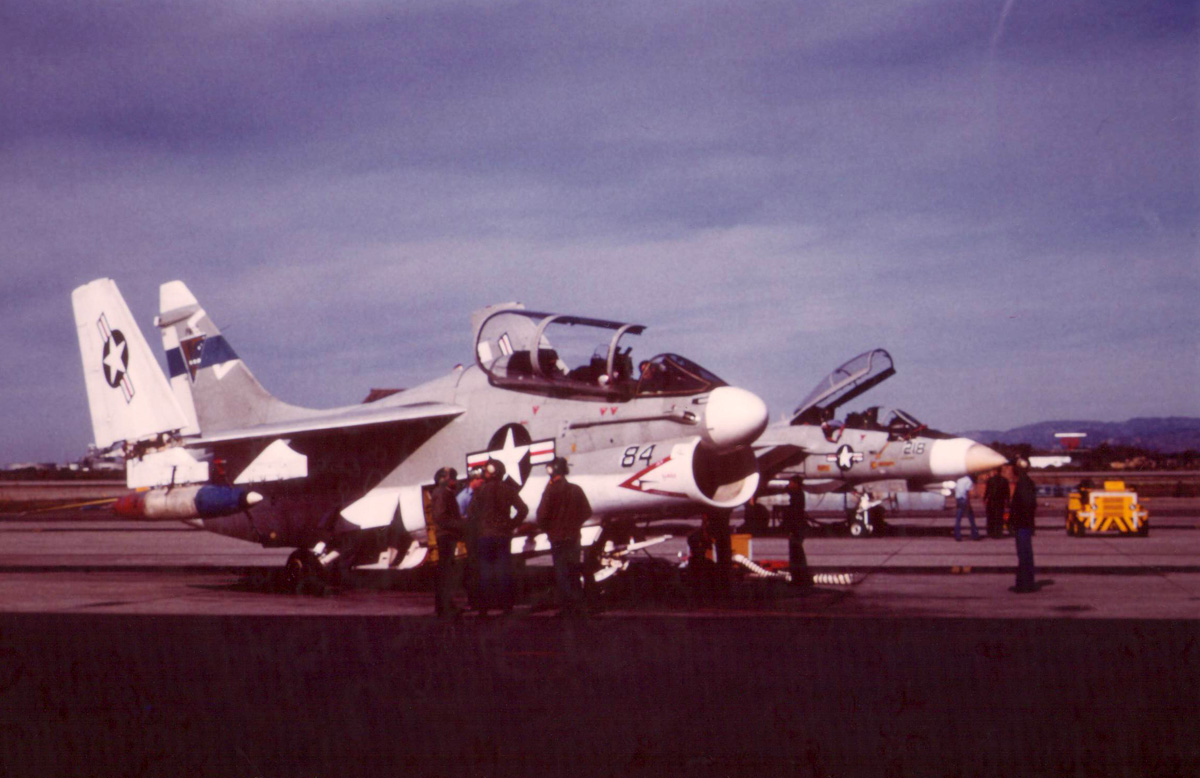 Back in the 80s I considered myself very fortunate to be a bit of a frequent flyer on this TA-7. I would come in even on weekends to fly on it. On this particular day we flew alongside a F-14. I stopped to take this shot as the four of us were walking toward the two aircraft, being readied for flight by the ground crews. Quite often I was given the stick and got to fly the aircraft myself for a while, but on this day that didn't happen.
A 1989 in-flight selfie, before anyone thought of selfies - I used my Nikkomat and the cockpit rearview mirror.
As the years went on, I also had the joy and privilege to get flights in this US Navy F-4
No man is an island, as they say, and there were, and are, lots of good people working at Point Mugu. Here are two of them: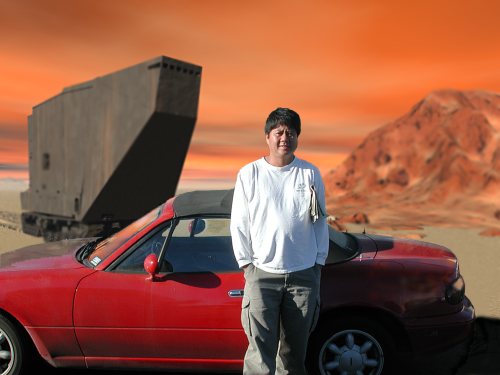 My friend Tony (on Tatooine) 2001
Tony, not so different in 2012. Just kidding. Lots of things have changed (the car got bigger, there are kids, a house, and more now), except that he is still the same old fun guy to hang out with.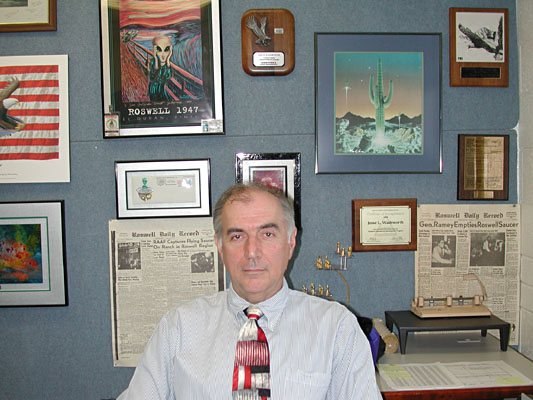 My friend "Roswell" Jesse and his alien mementos - NAS Point Mugu 2003
\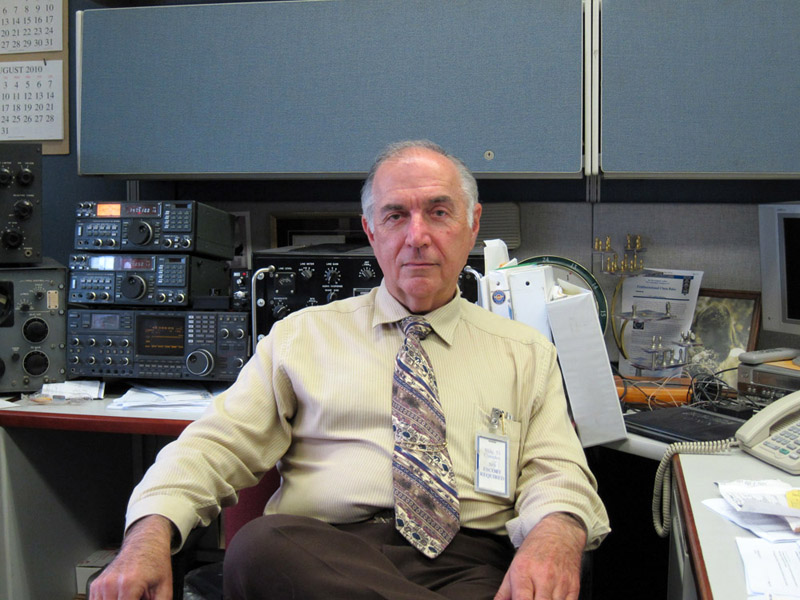 Same friend "Roswell" Jesse, - NAS Point Mugu ten years later. He's now retired to the peaceful life of dodging fires and mudslides in Ojai, CA, his longtime home
But wait! There is more. I also joined the Tridents, a P-3 Navy Reserve squadron located on the other side of the base as aircrew member

| | |
| --- | --- |
| | |
| As a Navy Reserve aircrew member, I served as P-3 host to hordes of visitors during our big annual Point Mugu airshow. | A VP-65 P-3 on the tarmac at Point Mugu. |
But it was not all fun and games, or was it?
Any of you who remember the TV series Heart to Heart are definitely dating yourself
So, one fine day in 1983 or 84, this film crew arrived. They were given permission to film an episode of Heart to Heart at the Naval Air Station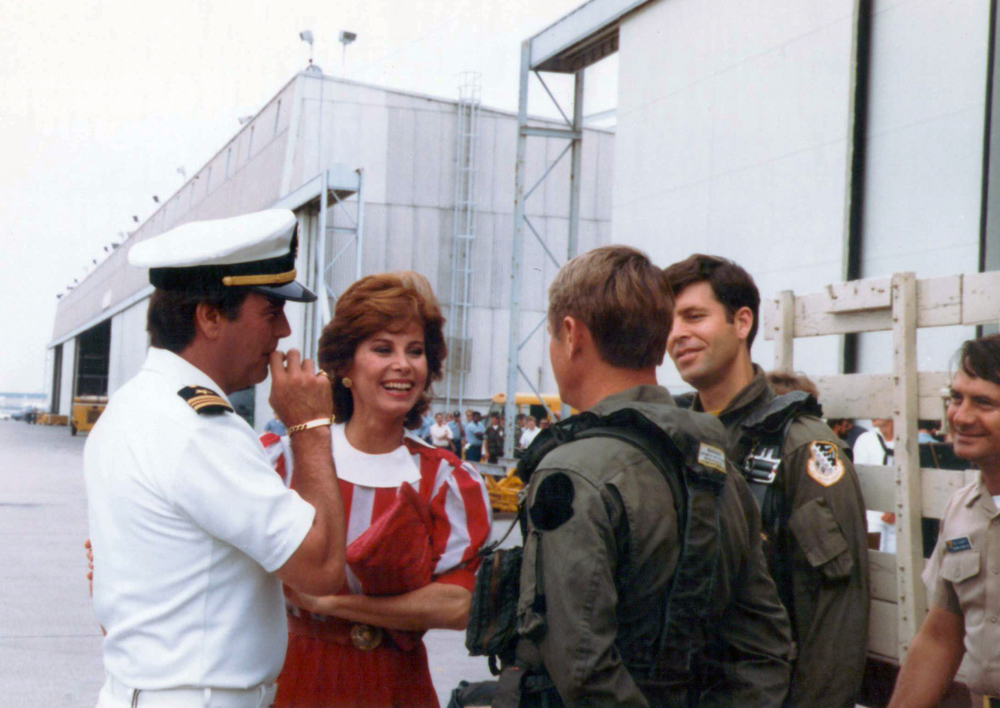 Here the actor, Robert Wagner, playing a Navy Officer for the part, and his gorgeous co-star Stephany Powers, talking to the real deal, some of our F-14 test pilots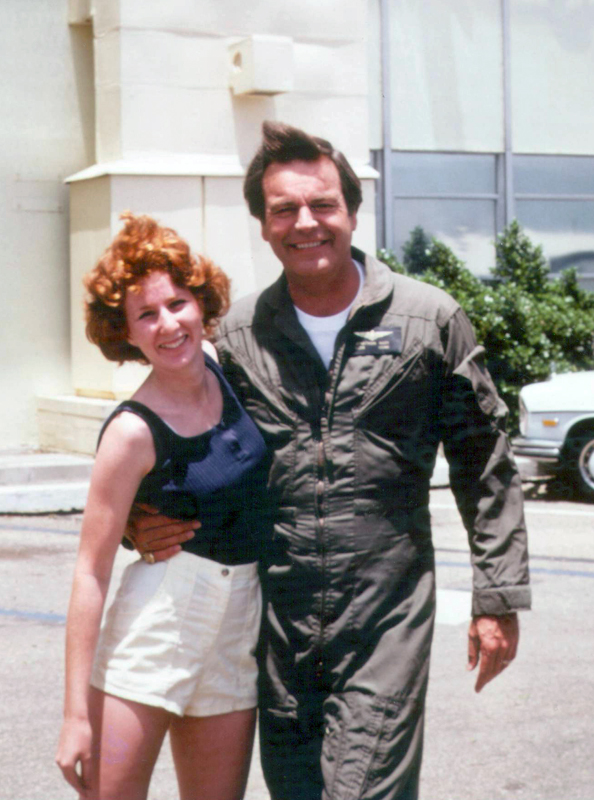 Then, since Kathy was on base that day, I asked Mr Wagner if he would take a picture with my wife. Yup, he did.
After all of this hard work, how does one relax, really?
One might, for example, fly a DeHaviland Dove from Point Mugu to Oxnard airport and back. When I took the Mini Test Pilot Training Class offered to us by Dr Shawn Roberts, renowned aerodynamicist (test pilot, and hounddog), this is what I got to do, and, since my wife had soloed in a Cessna, and I introduced her to Shawn, he had her, to all of our surprise, take a turn as well. Hey, his aircraft (one of many), his show, and, he was married to the only Canadian FA-18 pilot. A lovely co-instructor, who wore very tiny mini-skirts, to the delight of the USN Test Pilot community.
But this was the real deal. I had bought a used Prindle 16 catamaran that I and Kathy would take out near the Channel Islands. Mine was the only catamaran that was towed by a Datsun 280Z sports car.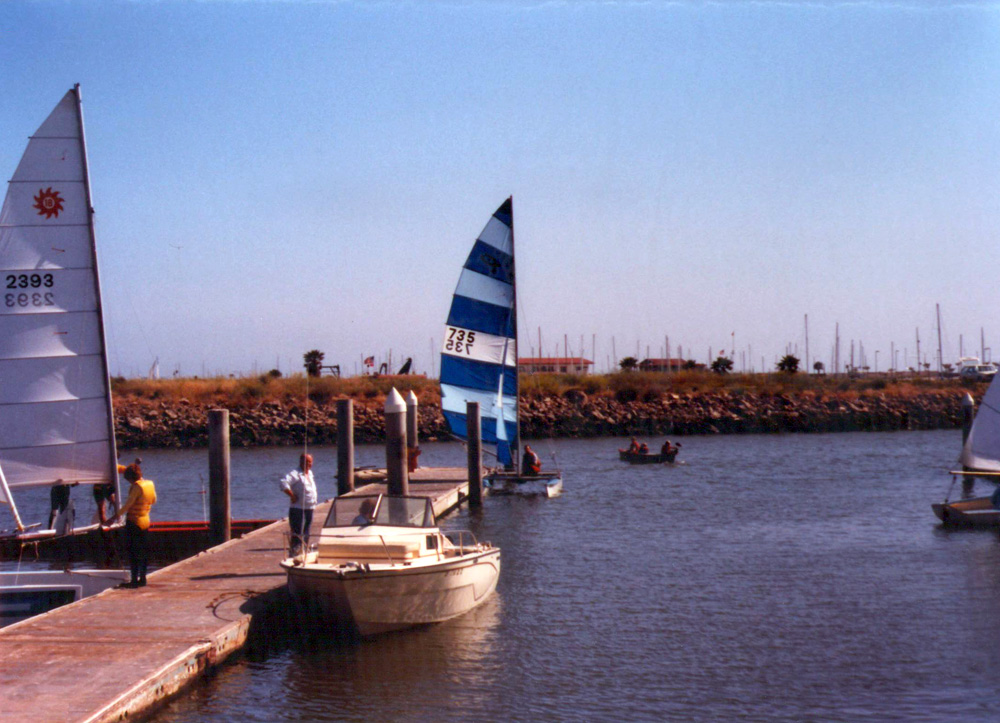 Kathy took this picture of the Prindle (735) with me sitting on the trampoline in the Ventura Marina, the place where most people would launch their cats.