Guyana

Georgetown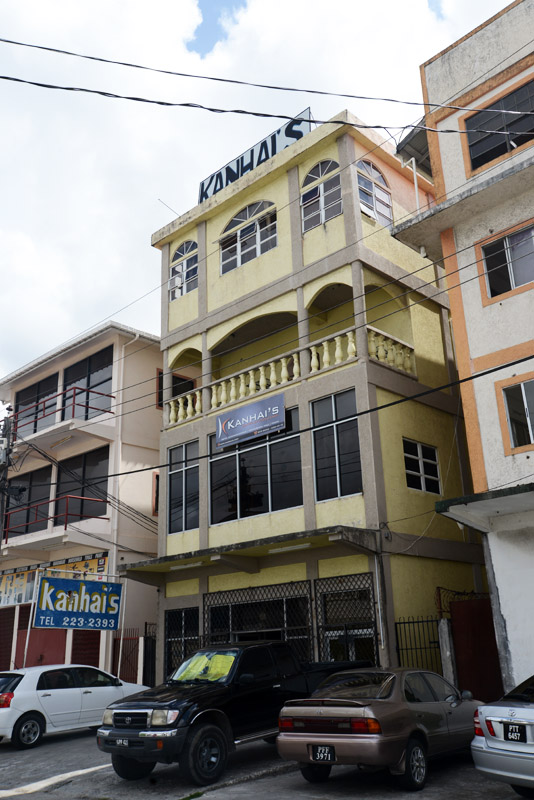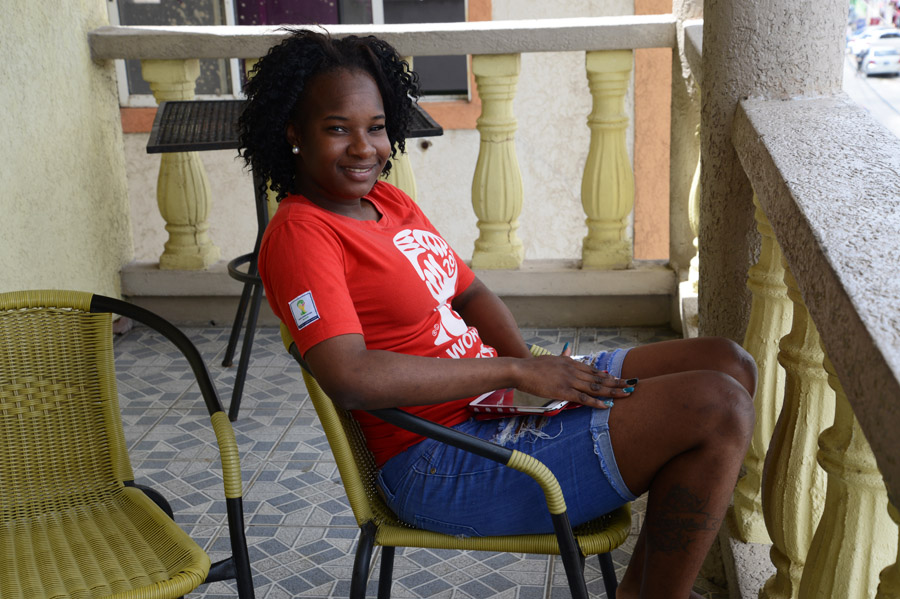 One of my neighbors on the very nice veranda. She and her girlfriend were visiting from Trinidad & Tobago

Kanhai's Center
Booking.com will be happy to get you a reservation

Tel: +592 6000127

On Charlotte Street, up from the Palace of Justice and the City Center
210 Charlotte Street, Lacytown
Georgetown, 01901 , Guyana
I tried very hard to like this place. Not a bad location and nice, but frustrated employees. The problem is that there is almost no support from the owners. The room was nice, but in need of work. The faucet of the sink would not shut off, resulting in a flooded floor, given time. To turn off the water you needed to reach under the sink and turn the water off at the wall. All that would take to fix is a washer and a hour of light work. The shower drain needed cleaning. The door lock just hung there. The room was never cleaned while I was there. Nearly everything they claim on their great looking website does not exist. The breakfast was very inconsistent when compared to other hostels. No napkins, no coffee, and when they finally had coffee, they had no filters for the coffee maker. Meanwhile, I bought instant coffee in a nearby supermarket and shared with some Cubans who stayed here for a few days. Those may well be the last Cubans they see here ever. Those people were very unhappy. I bought a jar of peanut butter so that we had something to put on the bread. The home-baked bread was very good, btw. They had an excellent cook, but she disappears, like nearly everyone else, to work elsewhere, half through the day. What really aggrieved me was the fact that there was no tour desk. The very nice desk clerk from Venezuela, too, disappeared for hours each day to work at other locations. One never got anything accomplished this way. There were no tour flyers, no brochures, no posters, no information whatsoever around the main desk. It seems the owers are trying to get out of the hostal business, and want to make sure that the message spreads, don't come here, you will get little to nothing, but be sure to pay on the day of arrival.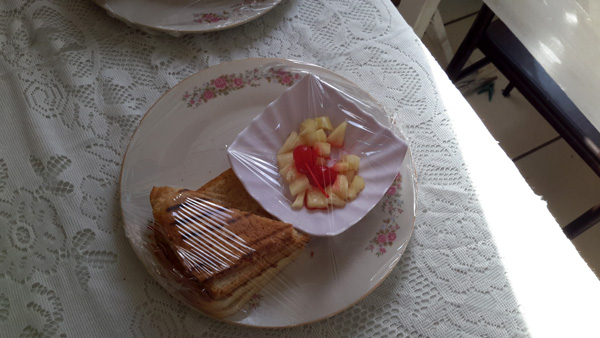 On a bad day, this and some hot water was breakfast.
Cannot Recommend
NOTE:
About the location. It was really quite acceptable. A very modern, upscale supermarket on the far side of the old English graveyard, visible from the veranda, in one direction, and another large one at the very end of the street, near the market and city center. All the sights of the city were reasonably close. Shops are closed on Sunday, so get what you need by Saturday. Below the address of the tour company. Reserve before you get to Guyana, because a lot of the tours are full. Because of the circumstances I missed out on a fantastic experience in the inner part of the country...maybe another time.
Ann is the owner/operator of the excellent Dagron Tours company.
91 Middle Street, Georgetown, Guyana
Email: reservations@dagron-tours.com/dagron@dagron-tours.com
Website: www.dagron-tours.com
Tel: +592 223-7921/227-1174