Curacao

Willemstad
I stayed in the left-most cabin. Nice room, towels, bathroom. Watch the tiles, bery slippery when wet.
The place is a bit of a gardener's paradise and they seem to grow most of what they serve in their well-visited restaurant.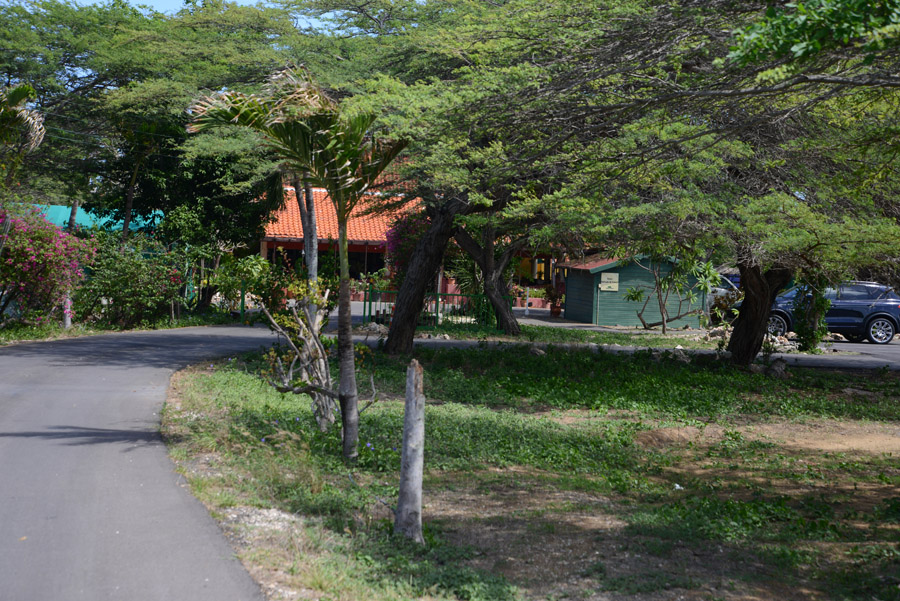 The Landhius is part of an apparently popular restaurant where you can buy meals and breakfast. They'll be happy to supply you with a menu.

Landhuis Daniel
Weg naar Westpunt z/n
Banda Abou
Curacao
Netherlands Antilles
I reserved my stay through Hostelworld.com

Tel: p. + 5 999 8648400
f. + 5 999 8647284

email: info@landhuisdaniel.com
Out in the country, about 30 minutes from the center of town by bus. From the airport, of course I did not know that until I figured that out by observation, you can get off at the large traffic circle with the large silver metal lizard (gekko) and from there catch the bus to Daniel's Landhuis. There is a convenient bus stop practically in their driveway. You can reverse that, when you leave the Landhuis to go to the airport. Tell the driver where you are going, then get off at the traffic circle and walk across to the other bus stop that will take you to the airport. Doing this will save quite a bit of time each way.
Well Recommended
NOTE:
When asked, they yell at you excitedly that the bus stop to town is just across the street. Well, it is. However, what they know and take for granted, you don't. It's not exactly across the street. I stood there and the bus went right by me. You have to go to the right a little way, not easily seen from the entrance of the Landhuis. As you get closer you suddenly see that there is indeed a bus stop, set well back from the street.
About the location. If you have a car and like to be out in nature, away from everything, this is great. Even traveling by bus, now that I know where to wait, is somewhat acceptable. Other than that, breakfast is not included, and the nearest supermarket is 3-4 miles away, in direction town. The 'Grote Berg' supermarket, new, reasonable, and well stocked. If you want breakfast at the Landhuis, you will have to pay $9, I believe, it is. I supplied my own food, so I do not know how generous that breakfast is, and can't tell you any more.
The owner is somewhat gruff, but helpful enough. His tall son-in-law from Dominica seems a much more personable type and will be the one to talk to.