Mexico

Mexico City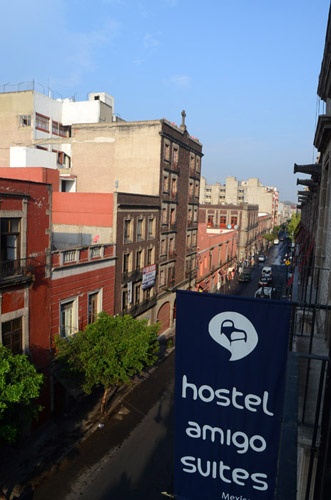 Email: infohas@hostalamigo.com

Local: 01800 8383688 (toll free)
From Abroad +52 5555100925

Luis Gonzalez Obregon 14 | Col. Centro Del. Cuauhtemoc, Mexico City 06010, Mexico
I had a large room, queen or king size bed. My room faced the street, had a balcony, and even with the door open, being on the third floor what noise there is, I slept soundly on the nice and firm mattress.
Large walk-in shower. Always hot water. Large bathroom - bring your own soap and shampoo.
Very friendly personnel and excellent front desk staff 24 hours around. Tiny TV, but that's no problem, since I don't watch it. The furniture is modern and nothing to write home about, so I won't, except for the bed.
They arrange for tours. The one I took was to Teotihuacan.
Excellent location in the well patrolled historical center of MC, with many excellent sights in walking distance. About two minutes to the Cathedral and Templo Mayor.
Close to the metro.
They have three computers available for any guest to use at any time. There is also WiFi.
They offer a nice breakfast and a passable dinner on the roof terrace, where there is also a bar.
NOTE:
Contact the Hostel. They do provide a free airport taxi service during certain hours from the Mexico City Airport only. Should you arrive not within the specified hours, e.g. very early or late in the day, they will give you directions to help the taxi driver find the street, coming from the airport.

Highly Recommended
Palenque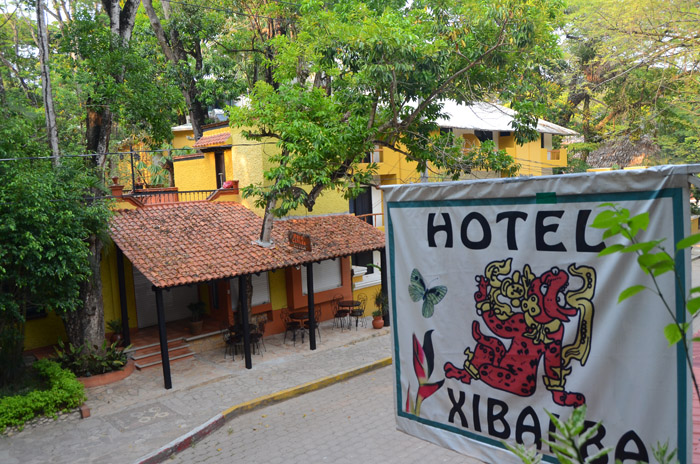 Phone: +529163450411
Merle Green 9, la Cañada
Palenque Chiapas, 29960
Mexico
A perfect little place that's conveniently located a comfortably short distance from the ADO bus station. If you plan to stay there, don't take a taxi from the ADO bus terminal, unless you absolutely have to. Nice room maybe a tad small, but for the price that's acceptable. Soap and shampoo is supplied. Very nice and clean bathroom.
No breakfast, and hot water is lukewarm much of the time. I did not mind, since it's hot and humid outside.
Free coffee is available for a ridiculous 10 minutes around 6 am. The personnel is very friendly, and a couple of computers are on hand for guests. A restaurant is in house, but there are alternatives all around. WiFi is free.
English is definitely not spoken here, nor in most businesses in town. Have the little phrase book on hand. And, also true for any establishment around here, have mosquito repellent with you. From the nearby intersection by the large Maya Head sculpture, you can catch a collectivo to the excellent Palenque ruins. No tour necessary. Tours, however, are arranged through the hotel, or you can go to anyplace in town and arrange your own, as I did for Yaxilan and Bonampac, which included very nice meals.
Definitely Recommended
Campeche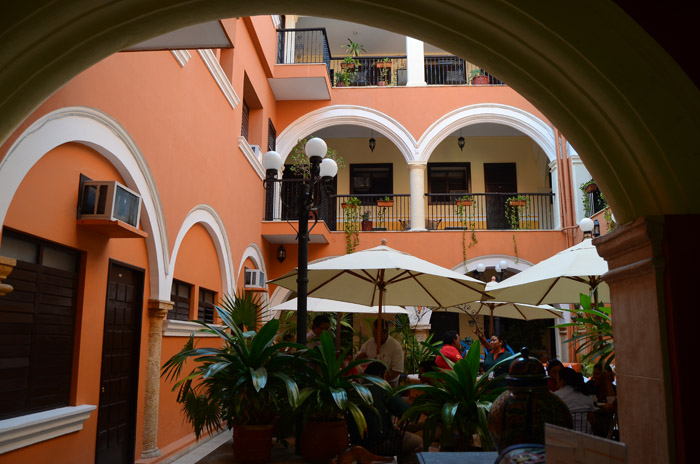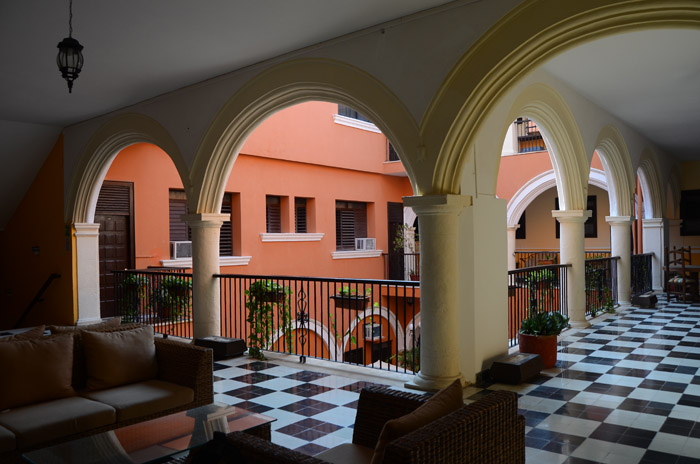 Email: reservaciones@hotelamericacampeche.com
Tel: (52) 981 8164588.

Toll-free (Local): 01 800 001 0102

Calle 10 No. 252. entre 59 y 61 Colonia Centro Histórico

Excellent location. Lovely center courtyard. Good-sized rooms. Friendly and helpful desk and room personnel. A/C works fine, and hot water is always on. TV and WiFi are part of the deal, although WiFi is only available in and around the courtyard. When I talked to the manager about that, I ended up recommending a more powerful transmitter. A mini-mart is just a few steps away. Immediately around the corner, opposite the hotel there is a sort of Subway copy. At the end of the central square, across from the Maya architecture museum, you will find an all-you-can-eat buffet. The desk will tell you about a laundry place, 15 Peso per kg. Drop off at around 8 am and pick up by 4:30 the same day.
Street-side rooms can get noisy, but on the other hand, you'll have a balcony and street view. Unfortunately, breakfast is not included, but a very nice breakfast will be prepared, if you like, in the courtyard.
Definitely Recommended
Make sure that you call ahead, since this hotel is full, much of the time.
Xpujil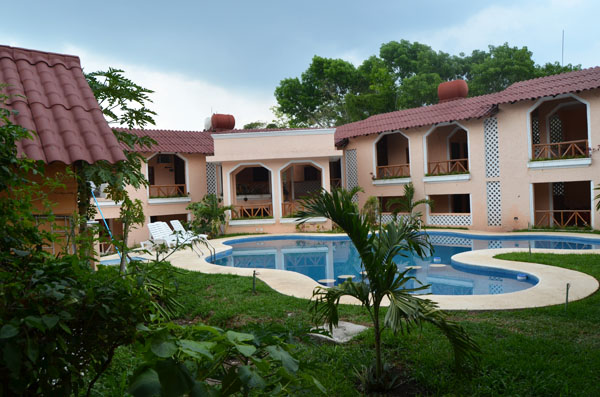 Email: calakmul04_06@hotmail.com
Tel: +52 (983) 871-6029
Highway 186, Xpujil Town
I saw it already, coming into town, which is basically a mile-long truck stop, arriving on an ADO long distance bus from Campeche. Took a taxi, because I was not sure about the actual distance, but walked to the terminal when I departed. It's not very far at all and on the opposite side of the street from the hotel. For Xpujil it probably doesn't get any better, and, they have a very welcome pool. They also have a well rated restaurant, and I noticed that quite a few locals were eating here. The room was small, but had TV, a/c, and a ceiling fan. Meals were not included. It is a motel, but so are a lot of hotels away from the larger cities. The personnel were friendly enough, but English is not readily available. As you walk toward town, toward the traffic light, you will find, rather interesting for this small town, a couple of large food stores, as well as street-side vendors of fruit and such. There are little eateries, too. The reason I stopped there was to visit Calakmul, the most prominent of the Mayan cities in what is today, Mexico. The hotel also offers some dorm rooms for $25, at the time, with common bathroom facilities.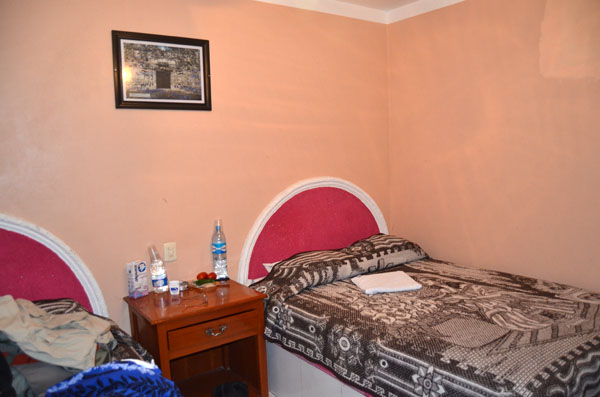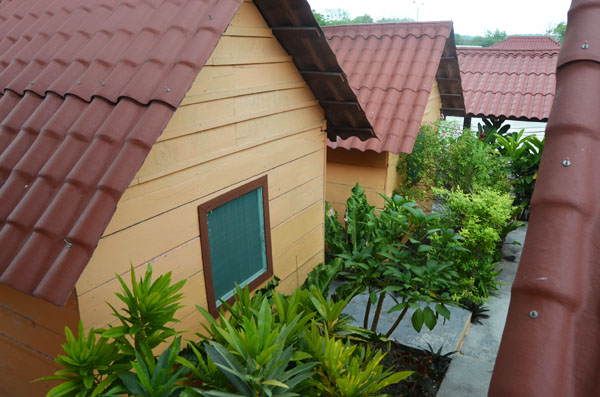 NOTE:
To get to Calakmul, unless you have your own transportation, the local cab drivers offer that service. You can talk to the hotel desk about it, and they may arrange it, or talk to the cabbie directly. They will offer a package that may include four ruins and a bat cave, if you desire.
Well Recommended
Tulum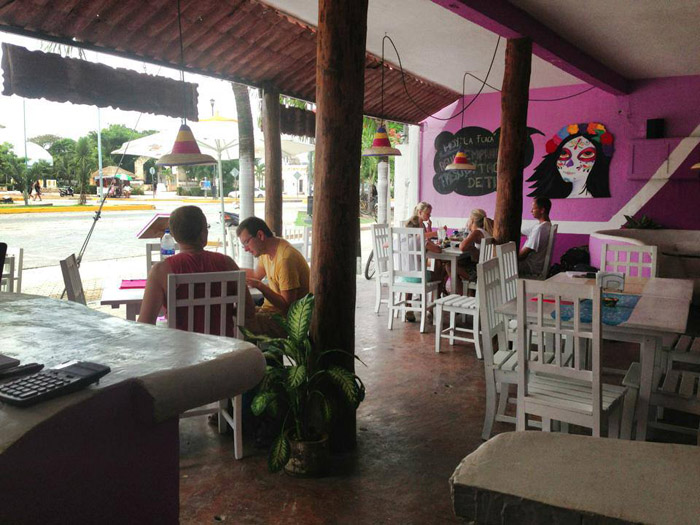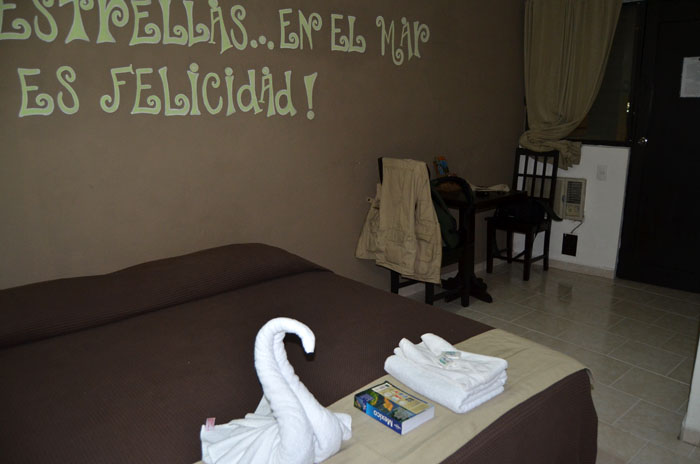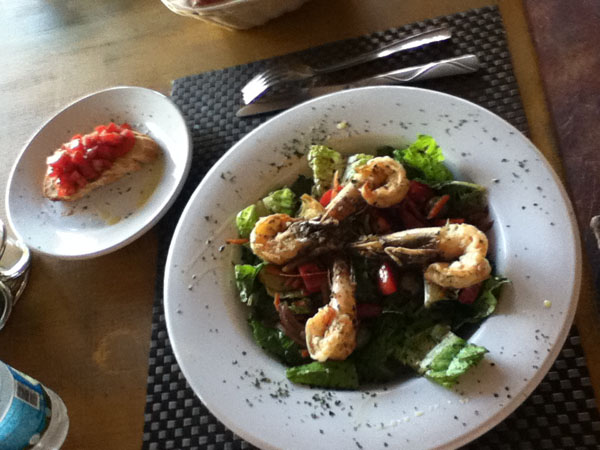 (formerly Hotel Luna Illena Downtown)
Tel: +52 (984) 160-0170
Avenida Tulum entre Calle Alfan y Calle Osiris, 77780 Tulum
Caring and interesting individuals make up the staff. English, Italian, Slovakian, Spanish, are the languages spoken in this popular hotel and restaurant. Close proximity to the bus terminal. Breakfast is included, but it is worth offering to pay the difference and get one of their other choices. The restaurant has excellent daily specials, serves a delighful mix of Mexican and Italian cuisine, and has an Italian pizza baker on staff, who, btw, also makes a great mojito. Otherwise, there are nearby stores on the main street or parallel streets to shop and countless restaurants and eateries. If you give them the laundry, they will take care of it, or you can take it to a laundry place yourself. There is a rooftop pool. Security is good, but they also have a safe box in each room. In easy bicycle distance from the beach and the Mayan ruins, and there are taxis and also a couple of buses that can take you there. You can even walk, I've done it and it is doable.
I had mentioned to the manager that fans, floor or ceiling, might be nice, however, the rooms are air conditioned. Unless you join the party crowd, ask for a quiet room.
NOTE:
When arriving by ADO bus, exit the terminal, turn left and a quite short walk on the same side of the street as the terminal, with the city central plaza on your right, you will see the restaurant and hotel. Also, you will find a laundry place on the same side of the street, just past the police station, and if you continue, there will be a supermarket (that also sells bicycles) and banks. There is another, even larger supermarket just down the road that leads to the beach.
Definitely Recommended..
both, the hotel and the restaurant
Hotel Kukulcan

Tel: +52 (984) 871-2112
Email: hotelkukulcan@hotmail.com
Avenida Tulum entre Beta Sur y Orion Sur, 77780 Tulum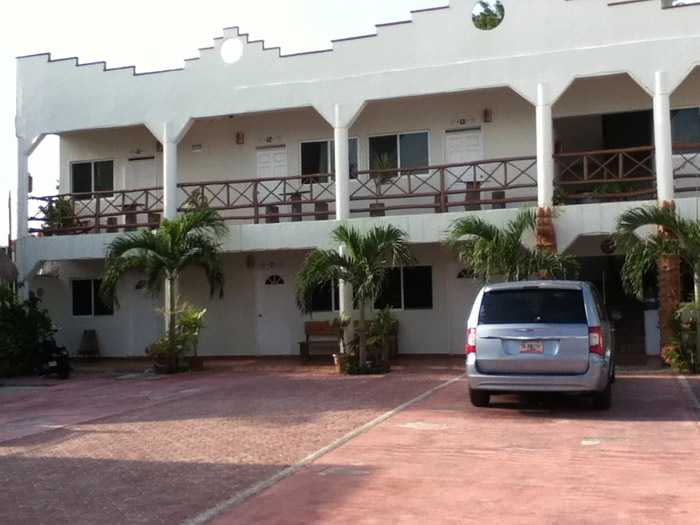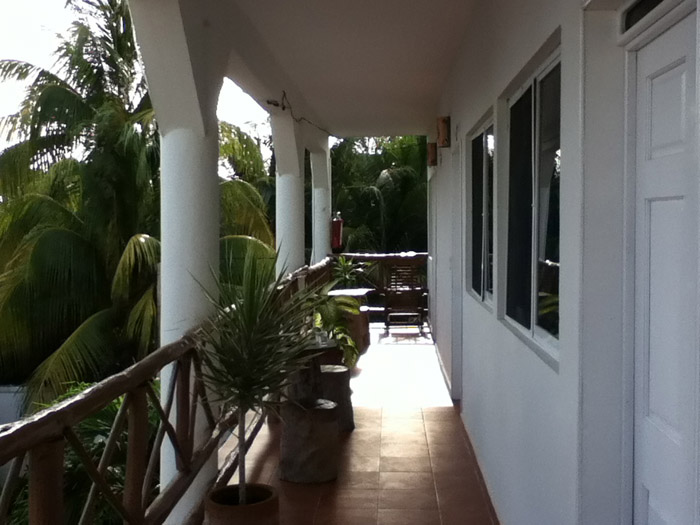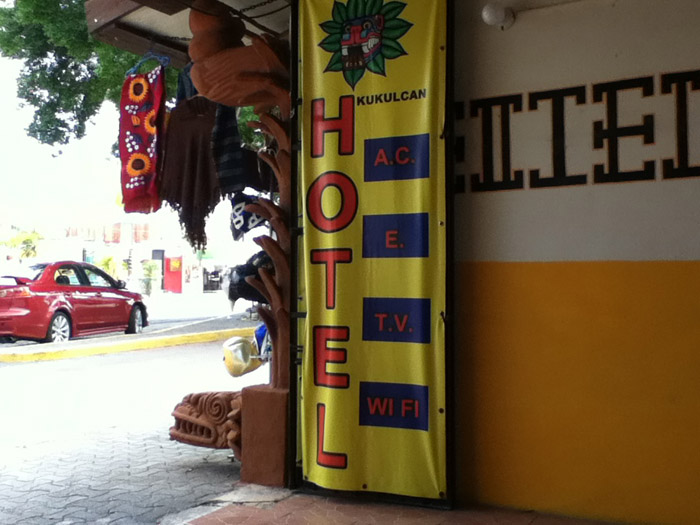 Since the previous hotel I stayed was being closed for a couple of weeks, for a makeover, I headed across the street and moved into the hotel/motel Kukulkan, here in Tulum. There is a friendly daytime desk and an evening watch/desk man. For 450P a night, cash only, I got a quiet, well ventilated, spacious room, with fan, TV, and a/c with remote. I liked being able to open two opposite windows at night and let the cool night air blow through. The walk-in shower with sliding doors, which leaked a little, in this room anyway, had plenty of water. No meals are included, and there is no bar or restaurant, there is, however an abundance of restaurants immediately outside, as is a bakery and coffee shop next to the entrance. There is a water cooler downstairs, and there is a dive shop (the popular and highly rated Mot Mot dive shop) operating on the premises. I noticed that by 11 PM, the front gate was shut. Security is clearly well served. While the room is well lit, with various ceiling lights, the reading light between the beds is useless. All in all, a clean and well run place and good value for the money. The location, if you arrive not by car, is conveniently close to the ADO long distance bus terminal, which is, as you walk out of the front, down the left, on Avenida Tulum, on the other side of the street, about a couple of hundred yards.
NOTE:
When arriving by ADO bus, exit the terminal, turn left and a short walk on the opposite side of the street from the bus terminal, past the city central plaza, you will see the hotel on your right. Also, you will find a laundry place on the opposite side of the street, just past the police station, and if you continue, there will be a supermarket (that also sells bicycles) and banks. There is another, even larger supermarket just down the road that leads to the beach and the Tulum Mayan ruin, which can easily be reached by bicycle, taxi, and at least one local tourist bus. You can walk there, and I have done that, twice.
Definitely Recommended