Egypt
(The best guidebook I found was the Egypt Rough Guide)
Note: Wherever the Hotel name is in blue and underlined, clicking will take you to the hotel's website. Otherwise, email is linked for easy access.

Cairo
27 Talaat Harb Str. - Downtown - Cairo
EMAIL: lunapension@hotmail.com396 10 2
0
Highly Recommended
Hotel Luna is a small hotel located on Talaat Harb, one of downtown Cairo's most lively streets. From Hotel Luna, you are only a short walk away from the Egyptian Museum of Antiquities and walking distance to the Museum of Islamic Art, within easy access to all means of public transport (metro – stations Sadat and Nasser) city buses, Ramses Train station and Turgoman Bus Station and you are literally surrounded by shops, restaurants and cafes.You will find three ATM machines right in front of the Hotel, as well as Thomas Cook and American Express counters nearby.
I found the hotel and the staff extremely accommodating, helpful, and friendly. The rooms are large and bright and the bathrooms clean. It is easy to get to anywhere from there, either on foot, by inexpensive taxi, or from the nearby metro station. There is a comfortable common area with TV where you can get hot or cold drinks any time of the day and night. Breakfast, as long as you pre-order the Egyptian breakfast, is excellent. When in Cairo, I would not stay anywhere else. I am not alone in that opinion. The hotel is fully booked most of the time, so contact them ahead of time. All of the ncessary information is given on this page.
A minor caveat: There are two travel agents/tour consultants working out of the lobby. While they are very helpful, they are also very eager to push their trips and agendas. You can bargain with them, but it is best to figure out what you want and firmly stick to that. They will enthusiastically try to sell you more if they can, but you are free to decline. Other than that, they will get bus or train tickets for you, for a small fee, which may be well worth your time. Conversely, you can get the staff to help you arrange a taxi for hire to take you around for a day. Cabbies will be happy to do that, rather than cruise the town all day, waiting for customers. There are always options. Public transportation may work, but is often very time consuming and while extramely cheap, probably not worth the effort.
The hotel has laundry service and Internet available for a reasonable fee. By now, they should have opened a much needed second wing on the same floor, all rooms in the new wing are ensuite. Again, I still think that it will be worth reserving your room well in advance, since this is a very popular place.
One general note of warning regarding drivers for hire in Egypt.
Drivers often try to get away with either offering to take you to some place of commerce, carpet factory, papyrus institute, restaurant, or antique store to make some commission on the side. They also love to shorten or change the tour, pretending to know better, and hope to get you and themselves home early, while keeping the entire amount. Have the schedule made out and tell them exactly where you want to go and what you want to see. No omissions. A car and driver can enter the Giza Plateau for just a few cents for the extra ticket. Don't let them take you to some camel or horse stable, where they will try to sell you the ride. Sure, the ride is fun, but you are giving up control of your time there to some camel driver, who will now be in charge of where you go, what you'll see and for how long. Camel rides can be had at any time, separately, when it is not interfering with your day.
Hotel Arabesque
Absolutely Blacklisted!!
Don't even think of that one as a suitable alternative. Even if recommended, stay away. The employees are very nice, but it ends there. One of the guests, a flight attendant for Emirate Air stayed there. When I recommended a tour schedule for her, she and a female friend started with a driver recommended by the hotel. Drivers, typically, try to shorten the tour to get home early, while walking off with the entire agreed-upon amount. This driver told the girls that they did not go to Memphis to see the colossus there, because they could see the same thing easily at the Cairo Museum. So he took them back to the hotel, dropped them off, and went home early, keeping the entire trip money. The girls, who told me that they did not make it to Memphis, had to leave that same evening for Luxor, and I mentioned this little problem to the desk staff, who relayed the info to their manager. The manager is a young man who got the job because his mother has money and is part owner of this hotel and owns another hotel in the same building. Well, he suddenly showed up, accused me and the girls of lying. He then yelled at me to stay out of the girls' business, insulted me, called me names, and ultimately yelled: 'I am the manager, and I don't care!', and left.
Incredible behavior for someone whose livelihood supposedly depends on dealing with tourists. At the time the entire lobby was packed with guests, many of whom were as flabbergasted by his behavior as I. One of them, a young man from Morocco, told me that as an Arab-speaker he had listened to this man's treatment of his employees as well and said that this young man has them all running scared with his constant threats. I was hardly surprised to hear this. Other than that, the breakfast here is quite minimal. I will shortly inform the Egypt Tourist authorities about this, however am not holding my breath, because a few dollars will most likely by off any criticism by officials there.
Minya
King Akhenaton Hotel

El Horria Street, right by the Nile.
EMAIL: kingakhenaton@hotmail.com 2
0
Highly Recommended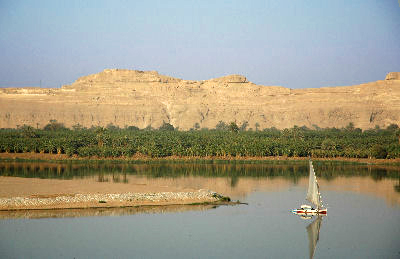 Would you believe I took this image from my hotel room window?
The King Akhenaton hotel is easy to walk to from the station. Take the main street you see slightly left across from the station toward the city square that has fountains. Continue on in direction Nile, and when you reach the corniche turn left. You will see the large vertical sign, reading Ekhnaton, at the side of the building. The main entrance is just around the corner, up a few steps. A taxi will get you there in a few minutes for two or three EP.
The hotel has a wonderful staff. Rooms (small but clean) with Nile view, on request and for a small extra charge, and an excellent breakfast buffet. They have laundry service and Internet as well. Also, here you will find a full service restaurant on the top floor, where you can also enjoy the great Nile views. My driver, a Christian, a teacher who moonlights as guide and speaks excellent English, by the name of George, had been recommended by the hotel staff, and I must say, after the Cairo drivers, it was a pleasure to be accompanied by this wonderfully knowledgeable, and well educated individual.
The only drawback about Minya, a charming little town, is the Tourist Police. The are ostensibly there for your protection, but end up only being an annoyance. Let's face it. The presence of some sad-sack Egyptian town cop, should push come to shove, would hardly deter someone bent on killing you and themselves in the process, as Dahab city well showed. I was lucky, and no cop asked to accompany my on my day trips. Just be firm about that, and if necessary, threaten to call the daytrip off. And, let's not forget, they can all be tipped. This is Egypt, after all. I ended up walking around town on my own as well. All I did, and I was pissed having to do it, was to stop on my way out, put a smile on my face, and tell the police that are stationed outside of the lobby, where I would be going. I always told them that I'd be going to the supermarket and that I'd be right back. They left me alone every time.
Luxor
El Kamar St
A ten-minute walk from the station. There are amazing signs all along the way, like a treasure hunt, leading you right to the narrow street where the hotel is located.
EMAIL: happylandluxor@hotmail.com
0
Definitely Recommended
The station is a battlefield of touts for hotels and transportation. There are none for either the Happy Land Hotel or the Little Garden Hotel. Unless you are carrying a lot, take the walk heading at a 45 degree angle left from the station and you will see the first sign to Happyland right away. The hotel is clean, friendly, and comfortable, the rooms sufficiently sized and the bathrooms quite nice. Each room has a small refrigerator, which comes in very handy. I stored my low-fat milk in there for breakfast. They call it a mini-bar. It is never that in Egypt. In fact management absolutely freaked out when I opened a bottle of weak Egyptian wine in the roof-top restaurant, yammering that they would be turned in by their good Moslem neighbors and fined or closed down.
Look at their nice website. They do give you all of the information that you need. The hotel is often full and it is worth reserving your rooms well ahead of time. At that time you might also want to request a room in the back of the hotel, since the streetside rooms are subjected to a significant amount of nighttime noise.
The staff is more than helpful in facilitating any requests that you might have. I have taken their tours, as well as followed their recommendations to tour on my own. Breakfast is good, and the restaurant serves all manner of local foods delicously until late in the evening. The kitchen is open for your inspection. When I was there they had a really fine cook working up there.
Again, a bit of driver trouble cast a small shadow on a daytrip, at least until I and my friends cleared up who was in charge. The tour driver, who we had for a full day, assumed that he was in charge of our timing and actually thought he could yell at us, when we were 'late' getting back to the car. We put a stop to that behavior immediately and the rest of the day went quite well. Keep in mind, to be fair, if you keep the driver beyond the quoted time, be prepared to pay a tip for that extra time. Additionally, this is a good place to arrange for your daytrip to Dendara and the incredible Abydos (not to be missed). A final idiosyncracy, in all of my years of travel this is the first hotel/hostel, where the book-exchange entails a fee, rather than just a one-for-one exchange.
A couple of bits of advice. For a nice Internet place, walk out of the frontdoor, go right, and at the first corner turn left, and you will be looking at the Internet place at the corner. The owner will charge just 5 EP an hour, rather than the 8 EP at the hotel. Continuing on and going left on the same street of the internet caffee, the street is parallel to the one Happyland is on, you will find on the right side a very friendly supermarket that sells low-fat or skim milk for less than other places.
In the new wing (on the left side, facing the historic hotel with its sweeping stairs up) of the great and historic Winterpalace Hotel on the corniche, in the direction of Luxor temple, you will find an ATM in a beautiful airconditioned lobby without any lines or riff-raff hanging around watching you withdraw your money.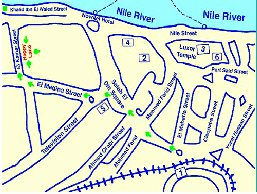 A suitable, slightly more expensive, Luxor hotel/hostel alternative will be the
It too has been favorably reviewed. They responded quickly to my inquiries, and after talking to others who stayed there, I will recommend that hotel as well. I did see at least one sign on Manshia street that gave directions to the hotel.
EMAIL: littlegardenlxregy@hotmail.com
0
Well Recommended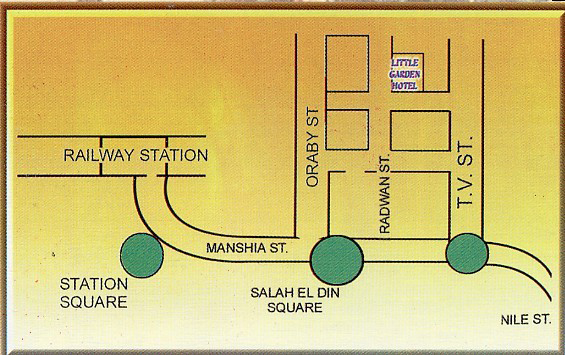 Aswan
EMAIL: info@keylanyhotel.com
Definitely Recommended
AA solid, but straight-forward 12-minute walk from the station. Turn immediately left, as you exit the station and walk along all of the souvenir stands and then through the Bazaar, (at the Mosque, hang right) until you get to a big main road. Look left, and you'll see a large new Mosque in the distance. Cross that street, and before walking into the market, turn left and you'll see the stairs leading up to the front door just a few steps away. Otherwise, if you cross that street and enter the market, you will see the sign of Keylani up the first alley on your left. Simple, and well worth it. I have not met a dissatisfied client of that hotel, I did, however, during the tour to Abu Simbel speak to a few others who stayed at different places and several of them expressed their displeasure with their choice of hotels.
An alternate and even simpler route would be to go from the station straight forward to the corniche and turn left. Walk along the Nile until you pass the Cairo and Akhenaten Banks (there'll be ATMs, too) and turn left at the next big street with the large mosque in the distance and a smaller one in the market on your left. The Keylany access will be on your right, just past the last market entrance.
To reserve rooms, this hotel would like a deposit. A staggering $5, I believe it was. I reserved via Hostelworld and it cost me a $2 membership fee.
The hotel has some great desk staff, and when I complained about a noisy location, immediately relocated me to a quiet room that was available at that time. The rooftop restaurant actually just serves hot or cold drinks at this time, but this is where you will enjoy their excellent breakfast. They also have laundry service, but I passed on the Internet and kept it in mind just for emergencies. The rooms are clean, ensuite, and sufficiently large. The location is pretty central along the corniche. About an equal distance to the station, in one direction, and the cathedral and Nubian museum in the other. Also, the bazaar continues, essentially in both directions, one or two street parallel to the corniche. The hotel will arrange for the Abu Simbel trip and any other local trip or entertainment you might have in mind.
For absolutely fresh hot bread, walk on the main road in direction of the mosque. Stay on the side of the Keylany hotel. Round the corner and continue. The time would be late afternoon. As you approach the bakery, you will see lots of people walking off with their load of fresh bread. There will be an alley on your right hand side. You'll see the bakery immediately. Bread is 50 piasters for 5 each. I usually took three and told the guys to keep the change. They made such a fuss to get me the absolutely freshest, non-burn-marked three breads every time. I got my non-fat milk going across the street into the market and bought from a small shop on the left side that had milk in the cooler. There is usually a young girl in there, doing schoolwork.
Dahab City
A Security Advisory: I consider the Sinai Peninsula at this time a very risky place to visit.
You may want to check the US State Department for current status of the region.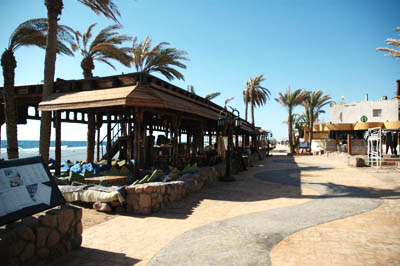 EMAIL: bookings@penguindivers.com
Well Recommended
AI took a bus from Turgamon station in Cairo. A long, but not at all unpleasant ride. Initially I shared a seat row with a very pleasant English speaking cruise ship cook, operating out of Sharm el Sheik, who advised me when it was time to pounce on one of the few remaining empty seat rows. A nice overview of the area and street maps is here: Dahab Maps. The bus station in Dahab City was a madhouse of cabbies yanking your luggage to their taxis, often pickup trucks. I shared the cab with a couple of women. When arriving near the beachside hotels, my cabbie drove his truck into a narrow alley and some guys grabbed the luggage and lifted it over the cab to the lobby of one of the local beach hotels. Not the one I had told him to go to. I finally retrieved my backpack and carried it across the street to the Penguin Dive Hotel. Unfortunately, it was full. Not uncommon (except maybe right now, after the attack). So, should you decide to stay there, make sure you arrange reservations early, and don't forget to read the US State Department travel advisories.
Since the Penguin was full, I was placed in a hotel just across the street. Blue Lagoon, maybe. The place just opened and was still largely under construction. The room was large, clean, and being not on the beach, not expensive. However, I spent my time at the Penguin, which is right on the pedestrian-only beach road. The Penguin's breakfast is excellent, as is the service, and the dive tours and Mt. Sinai (Mt. Moses) tours are arranged by them. Beware of Fridays, because Mt. Sinai is closed on those days (the Muslim equivalent of Sabbath, a weekly day of rest. Since I had planned on that, and not diving, I just took a long pre-breakfast swim from the steps of the Penguin, right next to their beach-front restaurant and lounge area (shown above). The Penguin itself has a two-tier pricing structure based on rooms with and without beach/ocean view. It is clean, busy, friendly, and well recommended by all who stayed there.
A great supermarket can be found nearby. As you are facing the beach, go left on the beachwalk from the Penguin Hotel. When you get to an intersection of sorts, turn left and on your right side is the market.