Istanbul, Turkey
Something happened since I last visited Istanbul: The guesthouse/hostel owners got greedy. It is a disgrace, IMO, but that is not going to change, but rather spread. The last time, there was an abundance of single private ensuite accommodations available. Since then, greed compelled the proprietors to cram as many beds into each room as they can. They stack them, too. That means that if you want a private room, they multiply the stated, always very low and reasonable appearing fee, times the beds in the room, and you might as well take a hotel room for that price and live in some comfort, rather than in an under-equipped, overcrowded room in a hostel or guesthouse, paying for 4 or 6 beds, just to have a private room ensuite. There are a few, very few, who still offer a single room as a luxury or de lux, single, even though they often have two beds in them. However, that is usually a larger and well equipped room. I got to experience examples of both, during this visit to Istanbul.


Eurasiahostel
Not Recommended

While I don't recommend staying here, I have to say that the employees there were very nice. Here is why I do not recommend it. Starting with their quite mediocre breakfast on a drafty terrace, up a narrow iron circular winding staircase, served on rickety tables where not one of tham would sit flat, without rocking. The doors to the outside were locked with metal latches that cut my hand, when I wanted to get outside in a hurry. The rooms were higly questionable. They made you pay for the beds in the room as a single, but that seemed not enough. On the last night I was told to move because a family was moving into my room and the owner deemed that, even though I was paying for the whole room, that I should be moved to a much smaller room, also crammed with four beds, one double and one bunkbed. That room was tiny, uncomfortable, pointed to the back of the building, had a bathroom you pretty much had to twist yourself into, and a sink the size of a large coffee cup. Totally unsat, and yet, I was charged the same amount as for the larger room that I previously occupied. If you go there, it is up to you. Ask to see the room, as I did, but be aware that you might be relocated against your will. On the plus side, they have a computer in the lobby that they will let you use anytime at all. One more thing I did notice, when I took the shuttle to the airport, arranged by the Eurasiahostel, it cost more than it should have. Everywhere else you pay less. Arrange it yourself.

K. Ayasofya cad. Mustafa Pasa Cad.
No.25 Sultanahm
Istanbul, Turkey
ph. +902125163223
email: info@surotel.com
When you meet him, you know you're in the best of hands. A more caring professional will be diffiult to find. Fluent in English, btw. his lovely wife is English.
This was another one of those kinds of circumstances that make you believe that something like good luck really exists in your life. Again the town was packed, but I managed to find this one single room at the Sur Hotel. I loved it and moreover loved the staff here. An outstanding bunch of people who bend over backwards to help any way they can. I almost hated having to leave there. I had a wonderful room that lacked nothing, still, they wanted to move me to a better room, but I declined. I liked it where I was. The breakfast room, as you can see, is lovely with view of the Bosporus, and the breakfast leaves little to be desired. All in all, a great place to spend your Istanbul visit in. I like to walk, and to me the location was excellent. Within five minutes I was at the bazaar next to the Blue Mosque. All else is right there, too. The top picture that I took from the breakfast room one afternoon shows you how close you are. For my next trip there, this is where I expect to stay.
Highly Recommended
Make sure that you call ahead, since this small and popular guesthouse is full, much of the time.
Urfa, Turkey
The Hotel Ugur

Koprubasi Cad. No 3
Belediye Karsisi
Sanliurfa, Turkey
p. +904143131340
email: musma63@yahoo.com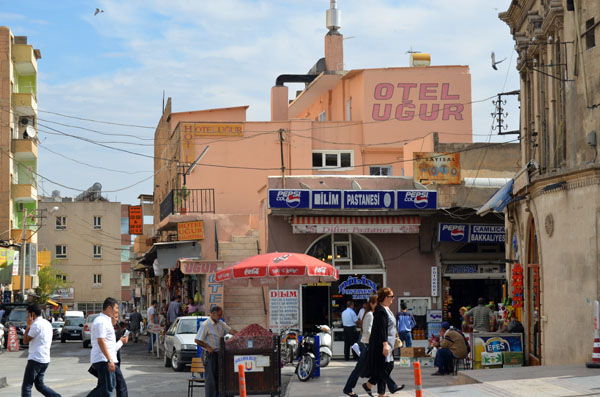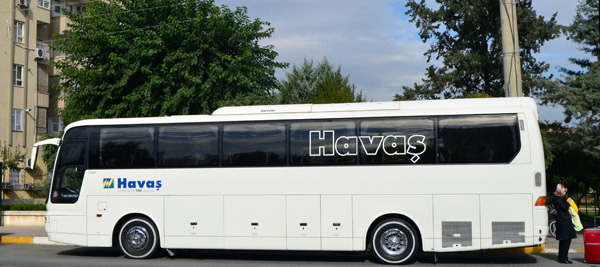 This hostel is easily reached from the city center where the airport bus terminates. About a 10-minute walk, straight across the round-about then under the walkway and past the sports arena. The people who work there are well imbedded in the local society and try hard to take care of your needs. The place itself may appear a bit long in tooth, in some way, but I consider it well placed, location-wise, and certainly the price is right. I do have one gripe, but it is a personal thing. I, and I think that is true for most of us who travel independently, we do not like to have to ask everytime we want some hot water for coffee or tea. There is a perfectly fine and under-utilized table in the hallway where an electric hot water kettle could be set up for anyone to use. That is not to say that the people working there minded making a cup for you at practically any time of the day and night, but a simple, inexpensive water heater would make things easier for everyone involved. I should have spent a couple of days longer there, because there was so much more to see, and I was quite comfortable. The room was small, but had what I needed, and besides, who spends a lot of time in the room anyway? When you walk down the steps to the street, go straight across the square and you will see in the building on your left, upstairs, a bunch of Internet Cafes, one next to the other. When you continue on, there will be a quite fancy restaurant on your right and as you go on, down the wide flight of stairs, you will walk straight into a large, I mean, large, supermarket. There you can get whatever your little heart desires. Of course, up and down that main street there are any number of restaurants and also banks with ATMs. ATMs here in Urfa work perfectly. There is a taxi stand right next to the hostel, where you can catch a cab to go to Gobekli Tepe, or you can let Mustafa arrange a tour that will visit a large number of archeological sites, or anywhere you choose. He is not pushy and will give you the information you need, if you want to get out on your own. . Were I to return to Urfa, I would not mind at all staying at the Hostel Ugur again.
Well Recommended
Turkey 2005 Hostels