Tajikistan

Dushanbe
Email: ghcomfort@mail.ru
59 Tolstogo Str.
Dushanbe, Tajikistan,

Phone: +(992 37) 224 69 04, +(992 44) 601-22-06

Cell: +(992 918) 65-40-64, 62-11-19

I got here by default. Everything else I checked was full, and what a great place to end up in. Superb hospitality, cleanliness, and a great breakfast is included, to top it off. The great cook will prepare excellent meals for a fee. The host and associated personnel will take care of you and provide a home-like atmosphere. They arrange for multi-day tours into the Pamir mountains or wherever else you want to go, such as to Lake Alexander, on the northern slopes of the Gissar Range in the Fann Mountains. A computer is available, if you happen to arrive w/o. The rooms are large and comfortable and well equipped. You lack absolutely nothing here. As far as the location goes, it is a very short walk to the bus nearest station for large or mini-buses. However, I often walked the entire Rudaki Avenue just because it was great walking in such a comfortable and pleasant town. There are banks, ATMs, and small markets nearby as well. Were I to return to Dushanbe, I could think of no better place to stay than the Comfort Guesthouse. Call them from the airport and they will send their driver to pick you up (for a fee) and you won't have to hassle and bargain with local taxi drivers.

Highly Recommended
I strongly suggest making a reservation most parts of the year, as the small guesthouse is frequently full.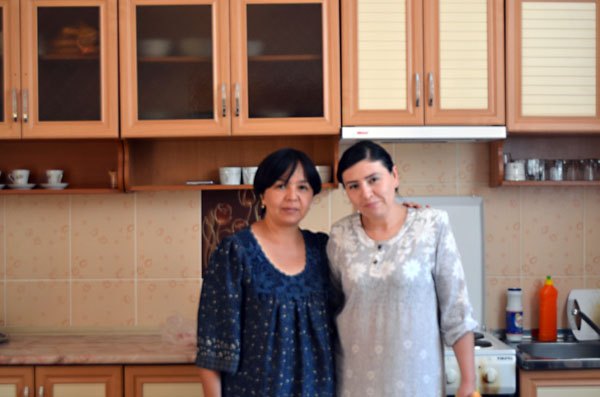 Two of the fine staff who take care of the travelers
May spaceous private room with bath (there are additional pictures and information at their website)
The entrance to the Comfort Guesthouse. The level of security is high. Ring the bell and they will see you via camera and talk to you. No, the fine gentleman you see standing there
will most likely not stand there when you arrive. He is one of the US agricultural experts who reside at the guesthouse for two or three years at a time.