Ulcinj, Montenegro


Hafiz Ali Ulqinaku,
Ulcinj,
Montenegro

ph.+ 382 30 422 288
email:dolcino@t-com.me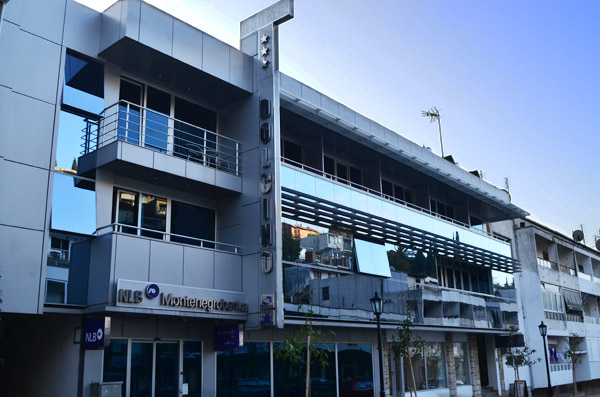 I arrived in Ulcinj well after dark and at a loss of where to stay. At the little round-about city center I went into the Top Net internet cafee and the kids working there helped out and directed me to this hotel just downhill, from the round- about. As clean on the inside as it appears on the outside. I found the rooms excellent, and the personnel friendly and caring. The included breakfast was very good and served in their restaurant. If you need a taxi, let them do it and they will get the guys with the meter (in the mirror). The hotel is just a short walk from a great supermarket, if you want that (in fact, there is one in each direction) and not far from the castle and a local bus stop. Everything else is conveniently located all around you in this charming little town. This is a hotel well reviewed by LP and others, and to me, a comfortable and outstanding choice to stay, when in Ulcinj. They deal in cash, but don't worry, there is a secure ATM right on street level below the hotel (left edge of picture).
Highly Recommended
You might want to check for availability first since this hotel will be quickly filled during tourist season.
Budva, Montenegro

Ferona bb
86000 Budva, Montenegro,

ph.+ 382 69 769 212
email:budva.sunhostels@gmail.com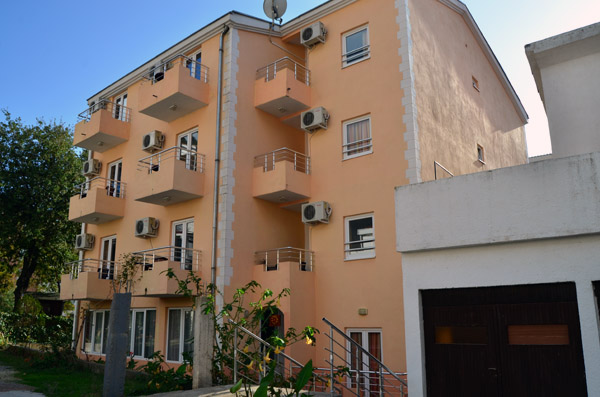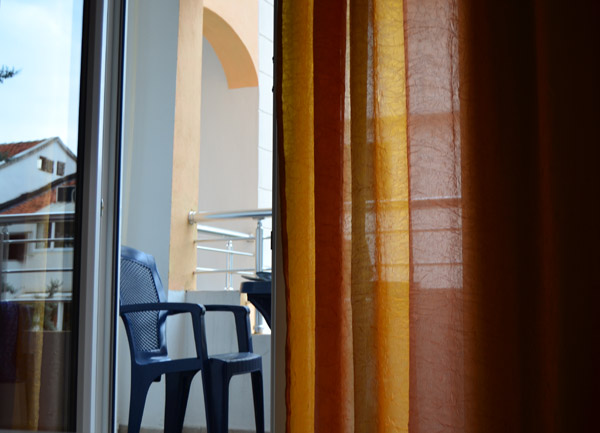 Igor Vlasnev is the hard working owner of this very nice guesthouse. The rooms were comfortable, clean, and pretty well equipped. The staff is friendly and very helpful, and a computer, for those who travel w/o, is always cheerfully provided. There is a full kitchen available, or there are a number of large and small markets where you can get what you need. It'll take about 15 minutes to walk to the beach, but it is a straight shot and easy walk. Outside of a couple of minor personal quibbles, ones that Igor, who explained that the hostel is new and still being evolved, will in time or on request take care of. The one he can do easily and immediately are towels, if he has not already gotten the new ones in, he'll happily provide extras, if asked. The other is, see-through curtains. And that is probably a personal preference :).
Well Recommended
Kotor, Montenegro
Old Town 265
Kotor, 85330
Montenegro

ph.+ 382 69 48 94 34
email:pivana@t-com.me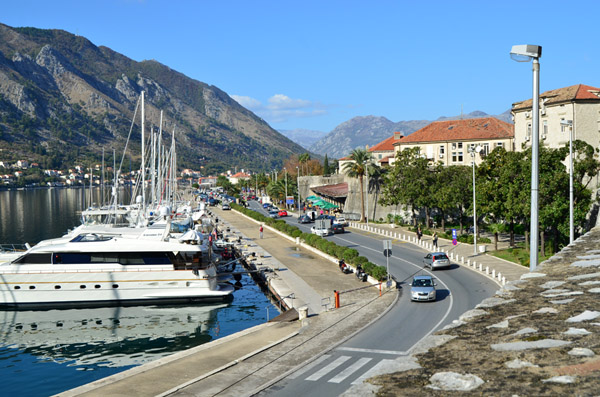 View from the terrace
I got to Villa Ivana through booking.com. I have yet to find a website for the guesthouse, so I linked booking.com's site. I stayed there off-season and got a wonderful bargain and totally enjoyed my stay. It may have been the most unorthodox place I lodged on this RTW journey, but it definitely is the most memorable one. From the moment I arrived, once I had contacted them, the owner and her mother-in-law took excellent care of me. The room was large, immaculately clean, and had everything one could possibly need. Outside, on the indoor landing is a kitchen. I looked at all of the rooms, and, btw, none of them have balconies. I think that was a misquote by some over-eager sales person, but every room has a key to a large terrace, overlooking the bay, and that also provides access to part of the city wall. Get your flintlock out and start patrolling. The location is priceless. It's right inside of the old town, near the southgate and another access, a bit more north. Outside of the southgate there is a large Maxi Supermarket and below the walls is a daily farmers' market in addition to mini-marts and numerous restaurants all around town. Talk to the lovely owner, and she will give you additional advice. Should I ever make it back to Kotor, and that's not unlikely at all, it would be off-season again, and Villa Ivana would be my top choice of places to stay. It doesn't get much better than this.
Highly Recommended
You might want to check for availability first since this hotel will be quickly filled during tourist season.
Montenegro 2011 Hostels