Mongolia

Ulaanbataar
Part of the wonderful staff and owner, on the right, who is, btw, a veterinarian.

The LG Guesthouse
Email: lg@mbox.mn
Mobile: 976-99858419, 91002311, 91912311
The moment I walked in, I realized that I was in good hands. The Hostel has two locations and I stayed at both. I did travel off-season, so it was easier for me to get the rooms I wanted. However, timely reservation can take care of that. It's pretty much a family-run busimess and the personnel from owner to clerks and maids take the best of care of you with cheerful disposition. If and when I return to Ulaanbataar, I would not hesitate to stay there again. Of course, as you can see on their website, they arange for tours and give you all the assistance you might need if you want to take off on your own. They will pick you up at the airport for a fee and pick you up from the train station for free. I stayed at both of their locations, and each one has its advantages and drawbacks. The one in the center of town shares toilet facilites, but is taken care of by a relative of the owner and her daughters very well and I did not find that to be a problem. The beauty of that location is that you are in the midst of it all, just across from the State Department Store and in walking distance to just about everything you might want to see or visit in Unlaanbaatar. The other location has rooms with shared and private bathrooms, has a restaurant, and is right across from a local mall and near the train station. Excellent Internet Cafes are available in the immediate vicinity of both. I felt very comfortable in both locations and would not mind staying in either, should I return here. Reservations are necessary, definitely during the main travel season or when the local festivals are going on.

Highly Recommended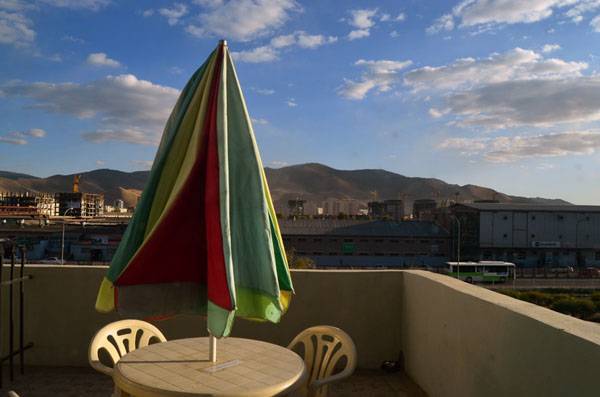 My room at LG location A, near the train station. I suggest making a reservation during tourist high season, as the hostel is frequently filled at that time.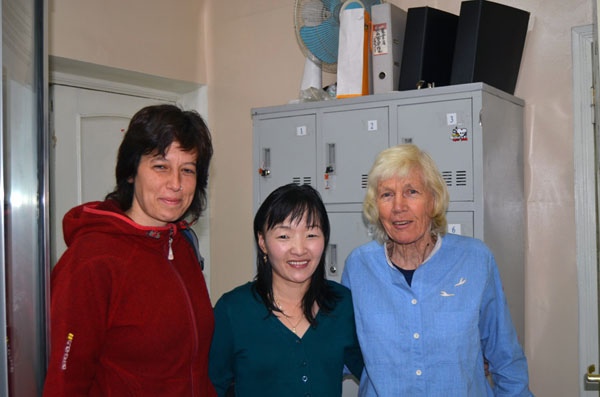 The receptionist and some very pleased guests. I could have spent all day taking similar pictures at both locations. The sentiment would have been the same.
And when they 'let their hair down', so to speak. Unfortunately did not catch the action with my flash on. I guess you'll just have to go there and see for yourself.
And now for the uglier side of travel
Mr Gomez Hostel
Ulaanbataar
A cess pit, to put it kindly. The place should be condemned. I pity those travelers who end up there. I spent part of a night there, and fled the place in disgust.
Black-listed in my book.