Holland (Netherlands)

Amsterdam
80 Dutch Guiders ($32) incl. breakfast
Bloemgracht, 102/104/108, 1015 Amsterdam, Holland Tel:020 626 58 01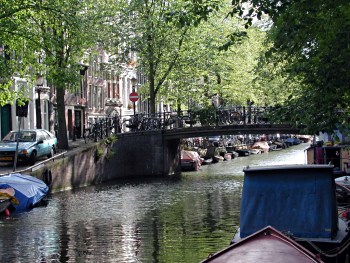 Run by Mr. Scrooge. A gruff, by now a very, very wealthy, old man. Breakfast is available, but I only drank the excellent coffee and had the real thing in my room, bought in a great Amsterdam supermarket, a trolley ride away. The rest of the junk was at that time not to my liking or visibly too cheap. The rooms are virtual monks' cells. White-washed with a minimum of conveniences. View of the Bloemgracht made up for some of that. No TV, radio, or desk. Read, there is a little reading light. It's a place I cannot recommend, although the location is very good, if you want to stay in a quiet old-Amsterdam neigborhood. Also, there is lots to see and experience in Amsterdam. The location is great and a quiet night is guaranteed. Rent, buy, or bring a bicycle. It is a great way to get around Europe and definitely Amsterdam, and most trains allow you to take them along. The room rate is acceptable and considering the nice location, the place is just acceptable. To get there requires a bus or trolley ride. Saying to the people at the main station that you want to go to the Anne Frank house will get you to the correct stop. From there it's just a few minutes' walk across a small bridge and then down the Bloemgracht. You can walk, cycle, or ride to all of the important sights in town within very short times. Also, the Anne Frank house and museum is just up the gracht, right across from a paddle boat rental and canal tour boat stop. A small and friendly internet place is just to the left, as you step out of the door of the hotel and a bicycle rental place just past that. One of the huge Easy Everything Internet places is in the center of town.
THE ALTERNATIVE TO THIS HOTEL
Go to Hostelworld.com or Lonely Planet for other options, there are lots of them.