France

Paris
Hotel Saint-Honoré
85, rue Saint-Honoré - 75001 PARIS - FRANCE
Tel. : + 33 1 42 36 20 38 - Fax : + 33 1 42 21 44 08
Contact : Adnane - Informations :
59 € a night (prices have changed significantly since I stayed there). I'm staying there again in 2005.
I discovered via the guidebook Let's Go Western Europe 2001 this great little hotel in Paris by using:
On the Parishotels Website go to the "Find Hotel on the Map" icon and click on District 6, Louvre/ Opera. Then pick it from the list, or just email the hotel directly.

It turned out to be mediocre little one star place, but the personnel is extremely friendly, the price is low, and the location totally awesome. For the more adventuresome and more money-conscious traveler, this place is perfect. Reserve way in advance, because it is virtually booked months in advance all year long. A laundromat is right across the street, run by an English-speaking Asian, a supermarket around the corner at Les Halles, a gym (Club Gymnase, free for members of 24 HR Fitness), up rue Saint-Honoré to the left on the same side as the hotel, a great boulangerie to the right, also on the same side of the street. An Easy Everything 24 HR Internet place a few minutes walk, beyond Las Halles. You find yourself just minutes from the Metro, the Louvre, and the river front. Don't bother with the breakfast, although the coffee is quite good.

Here is the contact info:
85, - 75001 PARIS - FRANCE
Tel. : + 33 1 42 36 20 38 - Fax : + 33 1 42 21 44 08
Contact : Adnane - Informations : paris@hotelsainthonore.com

Caen
Hotel de la Paix
14 Rue Neuve St. Jean
(33 2 31 86 1899)
Private bath/WC
Click on image for link:

Conveniently located, friendly owner, always happy to hold your luggage on departure day it can be reached from the main station by bus. If you were to get off at the city center, near the large church, the hotel is just steps away. Likewise, it is minutes from the original keep of William the Conqueror and his successors. Nice, a little basic, but I am sure that it is about par for the area. The price and the location were good enough for me. And the bathroom was ensuite. I like it that way. Aside from local exploration, I used Caen as a base from which to take a train and visit Bayeux, a 30 min train ride away, and the Normandie Beaches (a great tour is available in the restaurant right across from the Bayeux station), the Bayeux Tapestry, and the great Bayeux Cathedral. The latter two just a 10 minute walk from the Bayeux station.

Rennes
Hotel Richemont
(33 2 99 30 38 21)
8 Rue Dupont des Loges, 3500 Rennes
I keep thinking it was around $30 in 2001. I upgraded to a slightly larger room. All ensuite.

A sturdy walk from the station, I still had little problem finding it. Once there, it was a charming place, run by an even more charming French woman and her son. Rennes' two universities are in easy reach as is the beautiful and busy old town. Going left along the canal, on the right hand side one gets to a sizable supermarket with a wonderful selection of Brittany cheeses and French wines. From Rennes one can catch a public bus to Mt. Saint Michael. A trip to be started early. Be schedule-conscious to make sure you catch the last bus back to Rennes. I made mine, after walking the silt at low tide to a nearby island, a bird sanctuary, with barely 3 minutes to spare. I raced across the parking lot, feet still wet from hosing them down at the local constabulary. It is an inexpensive excursion no one should pass up. Rennes was a wonderful and highly recommended stay. A laundromat is on the way toward the station on the left side. Bring change, there is no change machine.

From Rennes, I also took a train to Nantes. There is a huge Ducal Palace there and either a long walk along the Loire river, or a short ride by trolley, takes one to the Jules Verne Museum. It is small, but, after all the inspiration to so many of us died-in-the-wool Sci Fi fans, I had to pay homage to the old master.

Avignon
Hotel Splendid
(33 491 90 1293)
17. Rue Agricol Perdiguier
It too may have been back then around $30-35/night, including a very nice breakfast.

Reserve the extremely popular Hotel Splendid early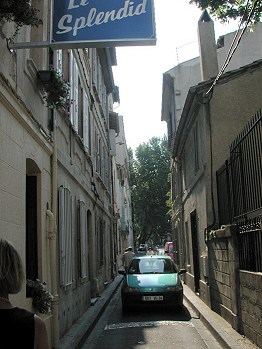 I took the high-speed TGV train from Paris to Avignon. What a ride. I kept thinking I was in an aircraft. The new TGV line is exclusive for the high-speed trains racing between Paris and Marseille and the French Riviera. The Avignon TGV station is outside of town, but a bus will take you directly to the correct old city gate, just across from the regular railroad station, and part of the impressive medieval wall that surrounds old Avignon. Walk through the gate and take the first right, down a narrow alley, next to a park, where you will see a short distance away the sign of the Hotel Splendid. A lovely little place that also serves a nice breakfast. It is a highly recommended hotel in a truly enjoyable town. I loved that place and it's many little restaurants and its gorgeous riverfront. In the little park, near the hotel is the tourist information office where one can buy souvenirs and a combination ticket that consists of a short riverboat trip, access to the Pont D'Avignon, and a tour of the Palais De Papes (wine tasting included).

From Avignon I also took short train rides to the interesting, historically rich neighboring towns of Arles (lovely Antique Museum, Roman Arena, & Van Gogh) and Nimes (the most complete Roman Arena anywhere & Le Maison Carre - a Roman Temple). Both definitely highly recommended day trips.
For the record: For my 2005 trip, I found Hotel Splendid fully booked for all of July already in March. My loss.
-----------------------------------------------------------------------------------

BLACKLISTED: While in Arles, I wandered into the lobby of this small place, hoping to find a map on the wall or some local info, and the proprietor of the Hotel MIRADOR came yelling at me to get out of his hotel. That the info in the lobby was for his guests only. I mean it was ugly. The worst thing was, he didn't even know if I had planned to ask for room availability to spend a night or two in Arles.
-------------------------------------------------------------

Marseille
Hotel d'Athenes
(33 491 90 1293)

I was not going to spend much time in Marseille, but discovered it to be a very interesting and multi-faceted town worth far more time than I had planned to spend there. I did, however take the opportunity to ferry out to the nearby islands, past the fortress-prison, the Chateaux D'If, that was featured in Alexandre Dumas' story of the Count of Monte Cristo (here's a link to a summary of the dramatic novel: The Count of Monte Cristo )

The hotel itself is a seedy little place though incredibly conveniently located, immediately at the base of the steps leading from the railroad station. The price was right, it was reasonably clean and I usually bought my own food elsewhere. Right across (hang left), below the station there is access to the subway (two lines) that takes you anywhere in town you need to go. Since I had planned to use Marseille just as a hub for my excursion to the Riviera, the proximity to the station was highly desirable and allowed for a rapid getaway. The railway tourist information desk was immensely helpful and responded pleasantly to a minimum of French. I could not have planned it better. Access to the Riviera from Marseille is easy and reasonably fast. The hotel will do, or you can use the travel guides "Go Europe" or the "Lonely Planet Guide for Europe to find other cheap accommodation.

Chamonix
Best Western, Le Morgane
Click to reserve at Le Morgane
or go here for other Best Western Hotels

I received a discounted room rate. Best Western gives (off-season) discounts for a variety of organizations, e.g. AARP. Military, and the like. You can always ask. Mine was $64/night, excellent breakfast included. You may do better or worse. Times and prices change - always up.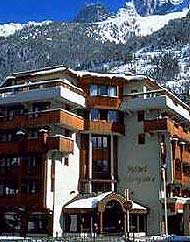 I reached Chamonix changing trains in Lyon, then changing one more time to get on the Mt. Blanc Express. Hotel Le Morgane is easy to recommend. It's expensive and luxurious, though excellent discounts can be had in the off- season (i.e. summer). I loved my stay there. My window looked out at Mt. Blanc and the Mt. Blanc cable car was just a minute away from the hotel. Two major sights in town were the Mer De Glace, the glacier that can be visited via a lovely ride on a narrow-gage private train that departs from behind the Chamonix station, and, of course, the main attraction being Mt. Blanc. Dress warmly for both excursions. Even in the summer, entering the world of ice and snow and ice caves is a chilling, though unforgettable experience. By the way, since I keep mentioning things such as laundromats, there is one immediately across from the hotel. McDonalds is your cheapest Internet place in town. One day I went into a place, not far from the hotel, that was selling mainly sausages and smoked meats, just to look around, and discovered that they were cooking excellent (that's healthy) and inexpensive meals to take out, during the week only. I also noticed that there is, aside from mountaineering and skiing, another great past time to be done here: para-gliding off the high mountains and cliffs surrounding the town. Chamonix is a place where that hobby is taught and cultivated.
Grenoble
Hotel Institut
10, rue Barbillon - 38000 GRENOBLE - Tél. 04.76.46.36.44 -
Tél international :00.33.476.46.36.44 - Fax 04.76.47.73.09
E-mail : contact@institut-hotel.fr
Please click on the image to go to their website.

The ads did not lie. It was really close to the station. Coming out of the station, hang a slight right, cross the station square, and you'll see a sign, on a corner, next to a Chinese restaurant, pointing the way to the hotel. The hotel is quite acceptable and comfortable. The breakfast, not included, is very sufficient, including the cereal option. I would definitely stay there again. There is an internet cafe, not too far, but it's pretty much the most expensive I have found anywhere in Europe. Supposedly overhead is really high. Staffed by friendly and helpful young people, it is still a nice place to use. Also, not very far are all manners of stores, including an Asian, all night place, open on weekends, where one can buy the necessitites. During regular business hours, the Casino supermarket is probably the place of choice. A laundromat is conveniently near, across the main street, leading to the train station. On my next visit to Grenoble, I will stay here again, no question about that.
Cannes
Hotel Atlantis
4, rue du 24 Aout - 06400 Cannes
Tel: 33 (0) 4 93 39 18 72 - Fax: 33 (0) 4 93 68 37 65
email : contact@cannes-hotel-atlantis.com
Please click on the image to go to their website. Nice picture of the car. The Hotel itself is strangely misbuilt and in cases somewhat cramped. Forget about the weight room. Don't even go up there and look. It's junk. Go swimming instead. The hotel is a bit on the crummy side, but kept clean enough. You get what you pay for. The employees are super, and do all they can to make you feel at home. The location is just minutes from the beach (round two corners) and that makes it very, very convenient. Also, a Monoprix supermarket is just about 1 minute or less away from it. They have Internet access next to the lobby. There is TV, and for me, there was a German station and the BBC. CNN had no sound. I think later they swapped places. For a short stay, keep in mind, you only sleep there, so, considering all else, it's ok. I took a room streetside and never was bothered by noise. A/C is optional, for a fee. From the station hang a slight right and walk straight into the alley. You'll see their sign on the left side. Use it as a base from which to explore the riviera. Get an all-day cote d'azur train ticket in the station and you can get off and on at any place you like.