China
Beijing
Address: No.31 Bei Xin Hutong Yonghegong Da Jie, Dongcheng District,Beijing
Phone: 86-10-51659660
ZIP: 100007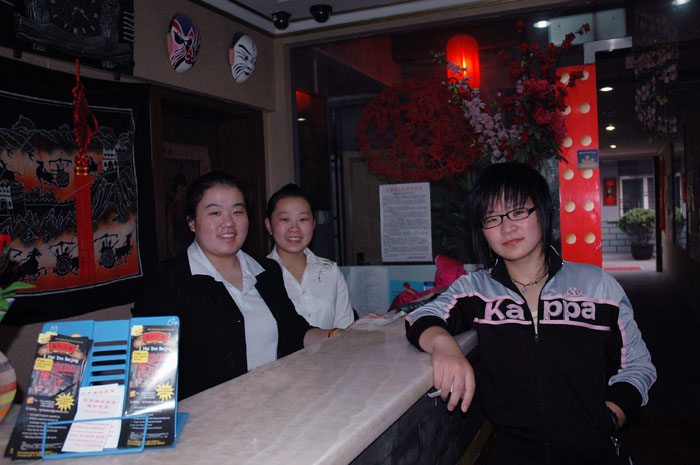 Some of the cute and hard working employees at the 1Hai Inn

Email: bj1haiinn@yahoo.com
Once I found the 1Hai Inn, which for me at least, was not easy, because the Yonghegong Metro Station has two exits, and Murphy's Law demanded I come out of the wrong one, I was definitely pleasantly surprised. The staff were kind, helpful, and attentive, and the place was quite resonably clean and because of the range of guests, a fun place to be. All for a fairly reasonable price. The location is excellent, indeed, because of a major sight, the Lama Temple, being virtually next door, but also because of the proximity to the Metro Line 5 and Line 2 station which takes you to nearly any place in Beijing in short order. The 1Hai Inn offers all kinds of tours, but truth be told, I had to complain about the one to the Great Wall. Out of over 10 hours (cheap lunch included), we had one hour at the Great Wall. A tremendous waste of time. The employee I talked to said that she will bring that up to the owner. IMO, a tour of the Great Wall should begin with the Great Wall. After all, that's what it's all about. Then, after two or three hours there, all of the other nonsense can be taken care of. I suspect that most other places use the same tour company with the same schedule. It might be best, although not necessarily cheaper, to go to some section of the Wall on your own, using public transportation and private minibus. On my next visit to Beijing, that is where I will stay again.
To get there from the Beijing airport: Take the Airport Express. Leave Departure Hall (Terminal 1 - it also has a stop at Terminal 2) and once outside, where all of the busses are lined up, look for stairs going down along the wall of the airport. The Airport Express terminates at Dongzemin. Once there, follow the signs leading you to Line 5. Buy your ticket, and go to the track that shows Yonghegong station. It's just one stop. Once you get out of that station, look for exit C and turn left. Walk along the incense shops until you see a small red sign that reads Beixing Hutong. Look into the alley and you will see the 1Hai Inn sign. If, like I did, you come out of the station and see a road bridge and a park, you came out of the other entrance. Simply turn left, walk around the corner, and after a short while you will see the other entrance.
Highly Recommended
Xi'an

319 Dongxin Street Shaanxi Province 710004 XIAN, CHINA
(+86)29/87928888 - (+86)29/87928999

Email: sofitel@renminsquare.com
Were I to return to Xi'an, I would probably not stay there, in spite of it being excellent accommodation in every respect. They have a great gym, and for those so inclined, a spa, and anything a guest might possibly desire. I only went there, in spite of the cost, because from the books and reports I could not get a good feel for the area's small hotels and guest houses. The Sofitel has great dining, expensive, but luxurious tours, and when I was there, an Octoberfest tent in the back. Breakfast is available, excellent, but pricey. If I decide to stay at that level of accommodation, I would look their other franchise, the Novotel, which always has a superb breakfast included. Service here is good and Internet is available.
For my local tour I went to the City Center, where the Airport bus stops, and went with the tour offered by the Melody Hotel, following directions from a card from one of the girls who approach you when you arrive.

Highly Recommended, just not exactly backpacker turf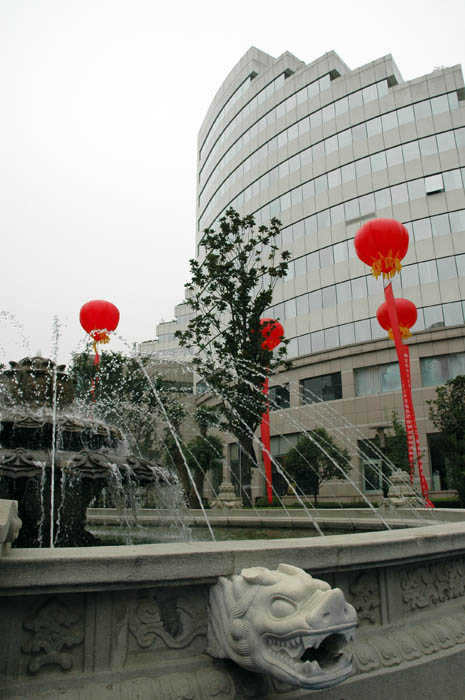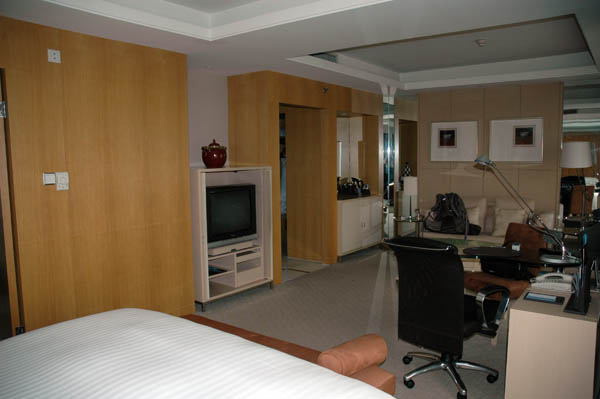 Lijiang

No.63,Wenming Village,Wenming Lane, Wuyi Street, Old Town District, Lijiang, Yunnan, China
Tel: 86-888-5119077
Email: apan1125@hotmail.com
Like so many who stayed there, I can only sing the praises of this delightful hostel and of the wonderfully caring manager May and her relatives, who work tirelessly to take care of the clients, all from Inner Mongolia, BTW. I found the hostel's location, while a bit (we're talking about a 5-10 minutes' walk here) away from the hustle and bustle of the center of old town Lijiang, a blessing. It was pleasantly quiet and the views from the veranda were stunning. The rooms were sufficiently equipped and clean and comfortable. Bring soap and shampoo from your last location, as most of us do anyway. Even in pouring rain, with me arriving late at night, May was in the street, waiting for me with an umbrella to take me to the hostel. It's a place where one feels instantly warmly welcome, comfortable and in good company. Additionally, while there is much to see locally, and the old town certainly has its moments, I (and virtually everyone else here) found the hostel a perfect base from which to range into the more distant locations for day or longer trips. May is extremely knowledgable of all destinations and cheerfully helps to arrange getting there. They have a kitchen with small but well tasting menu, serve a great cup of coffee, and even have a local red wine available.
To get there, in my case from the airport, I took the airport bus to its termination in town, then it gets difficult if you don't speak Chinese. It's best to have the phone number handy, and the taxidriver will call Panba and whoever answers will explain to him how to get there. Works fine every time. Once there, they have strips of paper in the door for you to carry, that spell it out. Also, their brochure has a map and the phone number, and is therefore something that is useful to take along.
From here I arranged the day trips to Tiger Leaping Gorge and to Shangri La

Highly Recommended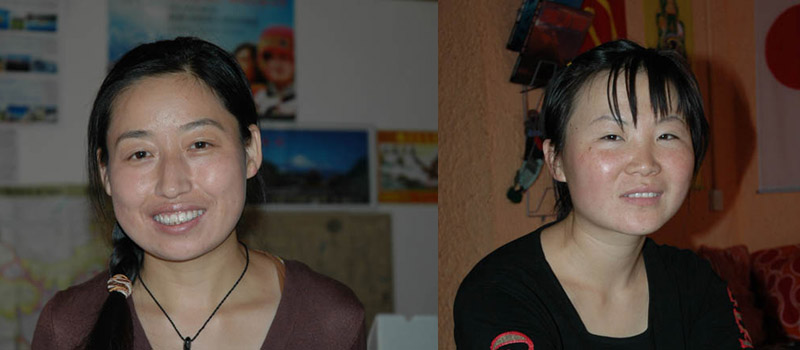 Two capableTwo capable young women, Ba Mei (L), dedicated manager, and her younger relative, assistant (she calls her sister).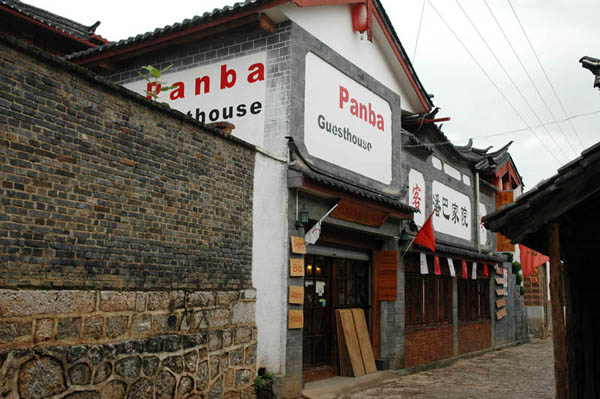 Image linked to Panba Online Brochure