Sweden

Stockholm
The Adlon Hotel
Vasagatan 42
Tele: 08 402 65 00, Fax: 08 20 86 10,
E-post: info@it-hotel.com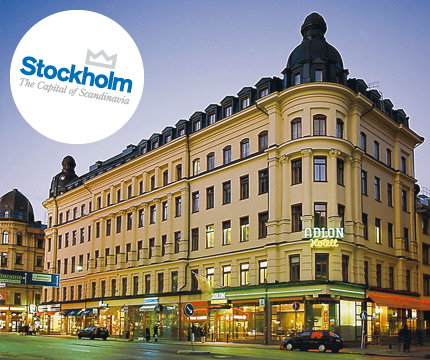 $61 per night in 2001, but that was an "internet special", back in the days.

Hands down the best deal of the entire trip in a town that I very fondly remember. The rooms all have internet connection included for those who travel with a laptop/notebook computer. For those who don't, there is a free internet connected computer in the lobby. The hotel is just a very short distance from the very clean railroad station. There is a bus stop right across the street that will take you to the harbor and the most impressive ship display imaginable, the Vasa museum. The alley, next to the hotel, leads you to all of the great shopping and mall areas in town, a 24 HR Fitness gym, and a large outdoor fruit and veggie market. There is also a big movie theater where most films shown are in English with Swedish captions. Their service is excellent, the breakfast superb, the personnel professional and highly accommodating, and the TV has all of the channels you might want to enjoy. The nearby station gives you via subway, easy access to the Royal Palace and the old part of town. An economic multi-day transportation ticket is available on the lower level of the station. If you ever think of Stockholm, this is the place to stay.
Highly Recommended!!