Morocco
I entered Morocco from Algeciras. As soon as I arrived there by train from Cordoba, I immediately purchased my roundtrip ferry ticket to Tangier. My Eurailpass served to get me a discount. Then it was a two-hour ride past the Rock of Gibraltar to Tangier. When I got there, I listened to people talking about being on a tour of Tangier, a weekend package, staged out of the four-star hotel Solazur. I talked to a young Canadian couple and then some others and found out that there will be a bus that was to pick up some of the package tourists. Since I had no hotel reservation, I first informed the couple that they do not need a cab, and to simply slip onto the Solazur tour bus. They did, and I did, and then we were all briefed on what to do and to expect and off we went, to the Solazur:

Tangier
Hotel Solazur
Avenue des Forces Armees Royales, Tanger 90000 Tel: (212) 39 94 01 64
Hotel Solazur can be booked from here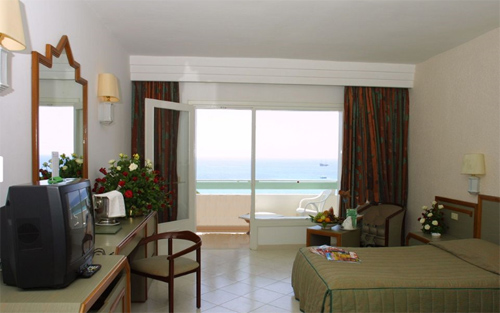 My back then, in 2001, inexpensive room with view of beach and ocean. The old town could be seen to the left from the balcony.

Right on the beach. It's the typical package-tourist hotel. Grab a cab in the harbor at the Ferry Terminal, should you want to stay there, and tell the cabbie Solazur. It's a large and safe place to stay. I remember that I ended up paying $10 more than my Canadian package-tourist friends. But while they had a room facing the back alleys, I had a beautiful view of the beach, the entire bay, and old Tangier in the distance. I had no complaints. Breakfast was weird, but acceptable. Since they do massive dinners and arrangements for the package tourists, one can always buy a ticket to one or the other function and partake in a large meal. Upon arrival I immediately beat feet and headed straight into town, then much later got back, ran into my Canadians who were sick of listening to American and Italian songs and all of the advertisements for local tours. I pried them out of there and showed them Tangier. They loved it and later we ate in one of the local places on Mohammed V avenue. They couldn't thank me enough for having given them that experience.

Since my stay there, it appears that the hotel has been renovated and expanded. Good for them. It is safe, and in some ways convenient. In the mornings I would take a half-an-hour run on the beach. That was an added benefit. From there walk or take a cab to the old town. For me, another great feature of the hotel was that they stored my heavy backpack for me while I took off to venture into the rest of Maroc, carrying just my small daypack and camera bag. That made my travel very easy. Before departing I reserved a room for my return trip.

Marakech
Hotel Ali
Hotel Ali is the apparent choice of many travellers (recommended by Let's Go Morocco), but the food there is not as good as at the place where I ended up staying.

Even though it was not yet tourist season, the hotel was full. I was redirected to a place to the right, going out the back past the Internet place of Hotel Ali.
Cafe Restaurant Hotel Arset El Bilk
Rue Bani Marine, Marrakech, Maroc
Tel: 42 64 30/48
I think it was about $12 a night and included breakfast and your choice of lunch or dinner.
I paid an additional $3 a night for a TV. They carried a large TV into my room. The hotel sits on top af a good-sized restaurant, which is where you eat. The breakfast was minimal, but the dinner (my option) was exellent. Chicken tajine and mint tea, hmmmm! Lower your room standards yet once more, and you can handle this place just fine. Hotel Ali is the apparent choice of many travellers (recommended by Let's Go Morocco), but the food there is not as good as at the place where I was staying. However, Ali has A/C, mine did not. It was still spring, and I survived easily.
Both hotels are just mere steps away from the Djemma El Fna Market square and a friendly post office is right around the corner.


Fez
Hotel Amor
31 Rue Arabie Saoudite, Fes, Maroc
Tel: 055 62 27 24
I think it was about $20 a night and included some breakfast.

Great lobby, high-ceilinged rooms, a great internet place right around the corner upstairs, and other than that, bearable. No A/C. There are other places in town that will offer that much needed feature for the same price. So, I can take it or leave it. Next time I'd probably leave it. Fez is a must-see for the visitor to Maroc, because it is not only a unversity town, but also the center of arts and crafts in that country. Here you will be able to buy silk-soft leather clothing and handmade rugs and carpets, among other things.

NOTE:
While In Morocco, I met a number of Westerners who were quite ill. I was fine and handed out my packs of Pepto Bismol tablets, which, when taken before each meal, are supposed to stave off much of the stuff that goes around there.